How Can You Beat the Widespread ROCA?
ROCA is a vulnerability hitting millions of devices. How can you tell if yours are affected - and what can you do if they are?
Encryption can save an enterpise and its data. Right now, though, the question is who's going to save encryption.
The latest news from the world of encryption actually starts five years ago with something called the Coppersmith's Attack -- an attack that is effective on certain versions of the RSA encryption algorithm. The new attack is called ROCA, which comes from Return of the Coppersmith Attack. It, too, is effective on some versions of the RSA algorithm and it's some of the specifics around "some versions" that makes ROCA so potentially damaging.
The vulnerability lies in a software library that generates the key pairs for RSA encryption. With the flaw, a Coppersmith attack can compute the private key starting with nothing more than the public key -- and that really defeats both the specific encryption pass and the entire idea of public-key encryption.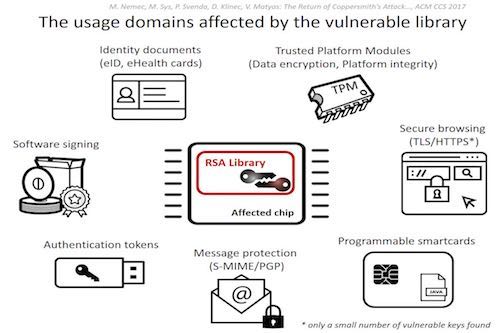 Infineon, a German chip manufacturer, used a vulnerable version of the RSA algorithm in chips that were installed in millions of smart cards, security tokens and other devices sold by Microsoft, Google, HP, Lenovo, Fujitsu and others. While many of the companies have begun releasing patches for the vulnerability, history indicates that millions of unpatched systems will remain in service around the world.
There is some good news in the vulnerability. The more complex the key, the less likely an attack is to be successful. 1,024-bit keys are quite vulnerable, while 2,048-bit keys are less so. Beyond 2,048 bits, keys and encryption should be secure from attack by casual hackers and local criminals, though the operative phrase there is "should be." It's important to note that, given the resources available to government and quasi-government agencies, all affected systems must be considered vulnerable.
Affected applications include Estonian national identity cards, trusted boot devices authentication tokens and more. The issue can't be fixed by a user organization, so what is a professional to do?
First, see if you have affected systems in your fleet. You can test public keys by pasting them to this website. If pasting potentially vulnerable keys to a public website bothers you, then you can download a github repository and execute tests within your own environment.
If you do have vulnerable systems, see if the manufacturer has made a patch available. If they have, then immediately begin sandboxing the patch and apply it as soon as compatibility has been assured. If no patch has been issued, then consider taking the system out of service; at the very least re-deploy the system away from public access.
Perhaps the most disturbing aspect of the vulnerability is that it exists in devices that were certified under NIST FIPS 140-2 and CC EAL 5+ -- standards that most purchasing authorities assume would have caught such flaws. That the vulnerabilities were not caught indicates that the tests under the standards need to be revisited, organiztions' relationship to the standards should be reviews, or both.
Related posts:
— Curtis Franklin is the editor of SecurityNow.com. Follow him on Twitter @kg4gwa.