For companies, cyberattacks can create a vast range of destructive consequences — from data breaches that cost millions of dollars to contain and cause irreparable damage to a company's reputation, to scams that trick employees into sharing sensitive information and transferring money into fraudulent accounts. But the most devastating cyberattacks might be the ones that target individual employees, who don't have the resources to recover.
For example, cybercriminals are increasingly targeting employees' 401(k) accounts to steal their victims' identities or make unauthorized transfers of funds. As retirement fund management has become more and more digitized, cybercriminals have discovered that the trillions of dollars Americans have tucked away and their sensitive 401(k) account information are vulnerable to infiltration and theft.
Millions of employees have put in decades of hard work to build up their 401(k)s, but cybercriminals won't think twice about depleting them in a matter of seconds. This is why companies and employees have to make 401(k) cybersecurity a top priority, particularly as contributions continue to grow, digital account management becomes the norm, and cybercriminals' tactics become more sophisticated and destructive.
Why 401(k) Cybersecurity is Becoming More Critical All the Time
Americans have more than $33 trillion in retirement assets, which is a little more than one-third of their total household assets. Employer-sponsored plans such as 401(k)s account for more than $6 trillion, and 106 million people participate in them. Despite the widespread use of digitally managed 401(k)s as vehicles for wealth creation and protection, there are many vulnerabilities that cybercriminals could exploit to target these plans.
For example, the US Government Accountability Office (GAO) reports that administrators of 401(k)s "share a variety of personally identifiable information (PII) and plan asset data," such as Social Security numbers, usernames, passwords, and bank account information. The GAO report continues: "The sharing and storing of this information can lead to significant cybersecurity risks for plan sponsors and their service providers, as well as plan participants." Considering the fact that PII is the type of data most commonly breached, the GAO is right to be concerned about it in the context of 401(k) cybersecurity.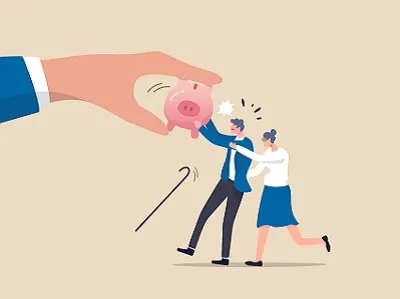 Credit: Nuthawut via Adobe Stock
These concerns are particularly salient amid the COVID-19 pandemic, as Americans take advantage of early retirement distribution options offered by the CARES Act. Cybercriminals are only going to become more brazen and creative with their attacks on 401(k)s in the coming years, and employees have to know what it takes to keep their accounts secure.
What Employees Should Be Watching Out For
The average 401(k) balance in the United States is more than $106,000. Americans have every incentive to ensure that their hard-earned money is safe, which means they need to know what red flags to look out for and what actions to take when they spot a threat. As with the majority of successful cyberattacks, attempts to access employees' 401(k) accounts rely on social engineering tactics such as fraudulent requests for information or coercive messages.
A report by the law firm Greenberg Traurig explains that cyberattacks "target 401(k) or pension information through phishing emails containing subject lines like 'Changes to your 401(k) Plan' or '401(k) Open Enrollment,' attempting to trick participants into revealing their 401(k) plan usernames and passwords." Employees should always be wary of messages that urge them to take immediate action with their 401(k) accounts. Instead of following the instructions in an email, account holders should always contact their financial services providers to authenticate updates and request more information.
One of the reasons 401(k)s are such attractive targets for cybercriminals is the fact that they often aren't closely monitored by account holders. This is why employees should monitor their accounts and report any suspicious activity immediately. But above all, account holders should remember that there's never any rush to make changes to their 401(k)s or move money around. It's their money, and they have every right to ensure it's being handled properly.
Opportunities to Prioritize Cybersecurity Across the Board
Several of the most effective ways for employees to protect their 401(k)s will also make them more secure in general. A cybersecurity platform that emphasizes the potentially immense consequences of human error will ensure that employees are cognizant of the attack vectors most likely to be exploited by cybercriminals who are attempting to hijack information or money from their 401(k)s. Here are a few of the most fundamental points to focus on:
Always use unique and complex passwords (even better, use a password manager), and don't share login credentials with anyone. According to Verizon's most recent "Data Breach Investigations Report," over 80% of hacking breaches "involve brute force or the use of lost or stolen credentials." Don't hand cybercriminals the keys to your 401(k).
Never make changes to your account based on a single email or phone call, especially if it's urging you to take immediate action. Contact your financial services provider or your company directly — it should have multifactor authentication, automatic account locks, and other security measures in place to make sure each interaction is safe.
Don't click on links or attachments in emails when you could access the same information through direct channels.
Monitor your account for suspicious activity and report any irregularities right away.
Cybersecurity can sometimes seem like an abstract issue for employees — they have a tendency to treat it as if it should be reserved for IT professionals and other experts. But all the tactics outlined above are available to any employee, no matter how technologically inclined they are. And the realization that their retirement accounts — which are the products of many decades of hard work and saving — are at risk should be enough to galvanize them around the importance of cybersecurity.