Criminal hacking is the greatest threat to Americans' well-being, according to a new survey that found it outranks air pollution, motor vehicle accidents, and artificial intelligence.
The online random survey conducted by ESET, which queried 740 American respondents via SurveyMonkey, asked participants to rate 15 types of risks, from "no risk at all" to "very high risk," as it relates to human health, safety, or prosperity. The participants were left to interpret their own definition of criminal hacking, says Stephen Cobb, ESET senior security researcher.
Criminal hacking scored a weighted average of 5.41, compared to the survey's overall weighted average of 4.92. Not far behind hacking in the rankings was air pollution, with a rating of 5.33, and disposal of hazardous waste in landfills at 5.24.
"It's pure speculation on my part as to why criminal hacking was rated the highest, but one suggestion is criminals breaking into computers is a more immediate threat," Cobb says. "Maybe the headlines in the news also made a difference. The survey was done right after WannaCry and NotPetya."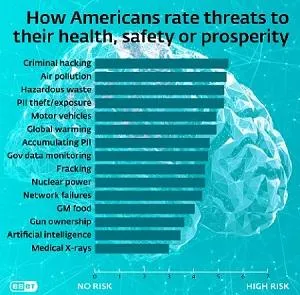 "One takeaway for enterprises looking at these results is that criminal hacking as a threat to the general well-being of Americans is right up there in Americans' consciousness. This signals to companies that they need to take security seriously," Cobb warns.
Age and Wealth Matter
Americans' views on the risk criminal hacking poses to their well-being varies depending on their age and wealth, the survey shows.
Survey respondents between the ages of 45- to 59-years-old expressed the highest concern for criminal hacking, with 65% rating it a "very high" or "high" threat to their well-being. The next largest age group with similar concerns were respondents 60-years-old and beyond (55%), followed by 18- to 29-year-olds (49%), and 30- to 44-year-olds (47%).
Older people say they limit their Internet use because it reduces their risk of a cyberattack, explains Lysa Myers, an ESET security researcher. Younger people are on the Internet all the time and it would be harder for them to justify that if they felt they were putting their well-being at risk, she notes.
Meanwhile, 58% of survey respondents with household incomes of $75,000 or less rate criminal hacking as a "very high" or "high" risk to their well-being, compared to 48% of survey participants with incomes higher than $75,000, according to the survey.
"If you are working two jobs and have to take time off to sort out identity theft, you may be more concerned about the risk," Cobb says. "People from more well-funded households may feel less risk."

Join Dark Reading LIVE for two days of practical cyber defense discussions. Learn from the industry's most knowledgeable IT security experts. Check out the INsecurity agenda here.
Related Content: