Globally, interest has surged around North Korea's Kimsuky advanced persistent threat group (a.k.a. APT43) and its hallmarks. Still, the group is showing no signs of slowing down despite the scrutiny.
Kimsuky is a government-aligned threat actor whose main aim is espionage, often (but not exclusively) in the fields of policy and nuclear weapons research. Its targets have spanned the government, energy, pharmaceutical, and financial sectors, and more beyond that, mostly in countries that the DPRK considers arch-enemies: South Korea, Japan, and the United States.
Kimsuky is by no means a new outfit — CISA has traced the group's activity all the way back to 2012. Interest peaked last month thanks to a report from cybersecurity firm Mandiant, and a Chrome extension-based campaign that led to a joint warning from German and Korean authorities. In a blog published April 20, VirusTotal highlighted a spike in malware lookups associated with Kimsuky, as demonstrated in the graph below.

Many an APT has crumbled under increased scrutiny from researchers and law enforcement. But signs show Kimsuky is unfazed.
"Usually when we publish insights they'll go 'Oh, wow, we're exposed. Time to go underground,'" says Michael Barnhart, principal analyst at Mandiant, of typical APTs.
In Kimsuky's case, however, "no one cares at all. We've seen zero slowdown with this thing."
What's Going on With Kimsuky?
Kimsuky has gone through many iterations and evolutions, including an outright split into two subgroups. Its members are most practiced at spear phishing, impersonating members of targeted organizations in phishing emails — often for weeks at a time — in order to get closer to the sensitive information they're after.
The malware they've deployed over the years, however, is far less predictable. They've demonstrated equal capability with malicious browser extensions, remote access Trojans, modular spyware, and more, some of it commercial and some not.
In the blog post, VirusTotal highlighted the APT's propensity for delivering malware via .docx macros. In a few cases, though, the group utilized CVE-2017-0199, a 7.8 high severity-rated arbitrary code execution vulnerability in Windows and Microsoft Office.
With the recent uptick in interest around Kimsuky, VirusTotal has revealed that most uploaded samples are coming from South Korea and the United States. This tracks with the group's history and motives. However, it also has its tendrils in countries one might not immediately associate with North Korean politics, like Italy and Israel.
For example, when it comes to lookups — individuals taking an interest in the samples — the second most volume comes from Turkey. "This may suggest that Turkey is either a victim or a conduit of North Korean cyber attacks," according to the blog post.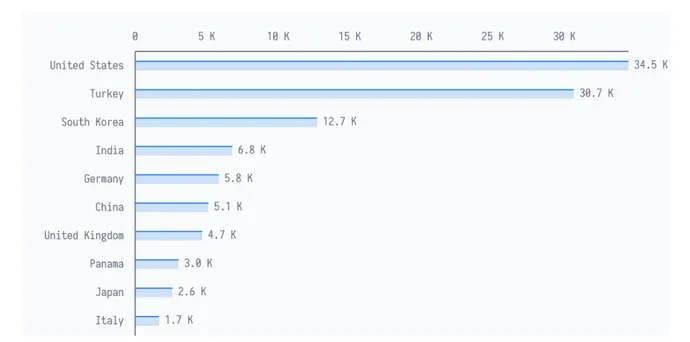 How to Defend Against Kimsuky
Because Kimsuky targets organizations across countries and sectors, the range of organizations who need to worry about them is greater than most nation-state APTs.
"So what we've been preaching everywhere," Barnhart says, "is strength in numbers. With all these organizations around the world, it's important that we all talk to each other. It's important that we collaborate. No one should be operating in a silo."
And, he emphasizes, because Kimsuky uses individuals as conduits for greater attacks, everybody has to be on the lookout. "It's important that we all have this baseline of: don't click on links, and use your multi-factor authentication."
With simple safeguards against spear phishing, even North Korean hackers can be thwarted. "From what we're seeing, it does work if you actually take the time to follow your cyber hygiene," Barnhart notes.