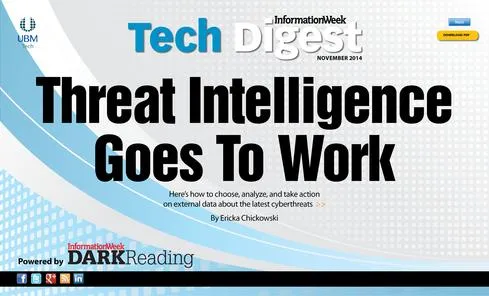 Download the entire new issue of InformationWeek Tech Digest
, distributed in an all-digital format (free registration required).
In the battle to beat back cyber attackers, security-savvy companies know that "context" is one of the most valuable ways to prioritize security efforts.
Many companies use security information and event management (SIEM) and security analytics tools to connect log and monitoring data for a better contextual picture of how systems and users are acting on the network. But a big element lacking within that information is the external factor -- the hottest trends among cybercrooks.
How are attackers adjusting their hacking techniques to get around current defenses? From what IP addresses are they operating, and what kind of vulnerabilities are they most often exploiting right now? Which attackers are targeting certain industries and why? What kind of data are attackers looking to steal? Log and monitoring data doesn't shed light on these broader trends, which is why companies turn to threat intelligence services.
A growing number of vendors sell threat intelligence subscriptions and services. Some such services are industry-specific, some cater to a geographic region. Some are simply technical blacklists. Others are more like news services with high-level narrative information about attacker behavior. It's a fast-growing business -- IDC reported spending on threat intelligence services grew last year by nearly 20% to $795 million. A recent Dark Reading survey shows that 85% of enterprises are using threat intelligence to some degree.
How much organizations get out of their spending depends on how well they pick their threat intelligence feeds and how they tie that back to their own threats and systems to block threats and find compromises quickly.
Threat intel origins
Threat intelligence is usually scraped from two major methods, says Gartner's Anton Chuvakin. The first is from security monitoring. The data could be a group of organizations that pool and share their internal monitoring information, or it could be a huge vendor using anonymized information gathered from a large client base. That's the low-hanging fruit.
The second is threat intelligence gathered by vendors or nonprofits that "actively crawl for threats, browse sites for malware, run honeypots, spam traps, sinkholes, or even actively 'engage' the threat actors and/or infiltrate their ranks," Chuvakin says.
Threat intelligence feeds can be qualitative or quantitative.
Qualitative types of threat intelligence focus on providing newsfeed-like services on the campaigns, tools, techniques, and motivations of attackers. More quantitative sources -- blacklists of domains, URLs, IPs -- are intended for use directly by the preventive and monitoring systems to help detect and block activity with known bad sites. The quantitative sources are sometimes offered as standalone services, or integrated into products such as IDS and SIEM offerings, firewalls, and gateways. Qualitative feeds can be analyzed by security operations center staff or incident handlers to help them better identify technical attack trends.
Combining all these types of threat intelligence is meant to help companies fine-tune their protection strategies for new attacks and to counter threats targeting their specific type of business or data. For example, a bank could discover that a certain group of criminals is targeting the sector using an attack that exploits key vulnerabilities in a major enterprise relationship management platform, and those attackers are exfiltrating data to a handful of known bad IP addresses. The company could then put a priority on fixing any vulnerabilities in that system, and either block those IP addresses or keep tabs on the attackers using them.
Ultimately, the idea is to get beyond simply reacting to malware, and base security strategy on how the adversaries are maneuvering.
"If you don't understand the attackers that may be coming after you, or know their tradecraft, you really have very little chance of tailoring your defenses to the threat," says Dmitri Alperovitch, co-founder and CTO of CrowdStrike, a threat intelligence and security analytics firm.
Read the rest of the story in the new issue of
InformationWeek Tech Digest (free registration required).