Those with cybersecurity expertise have two choices: to use their "powers" for good or evil.
Those who embrace the latter have cost enterprises billions in damage, destruction, business disruption, and recovery. (Think: Capital One, Macy's, and FEMA, among others.)
Those on the good side of the equation are keeping their organizations as protected as possible from the threats and vulnerabilities, big and small, that surround them. And they have plans in place should anyone break through.
Then we have the "extra good" — those who think beyond the day-to-day and lend their expertise to bigger causes. People like Eva Galperin, "an outspoken advocate for using security for altruistic purposes. To put it simply: hacking for the greater good," wrote The Edge's Joan Goodchild, in the late November article "A Cause You Care About Needs Your Cybersecurity Help."
That article served as the impetus for our December poll, asking readers whether they're donating their expertise to help others.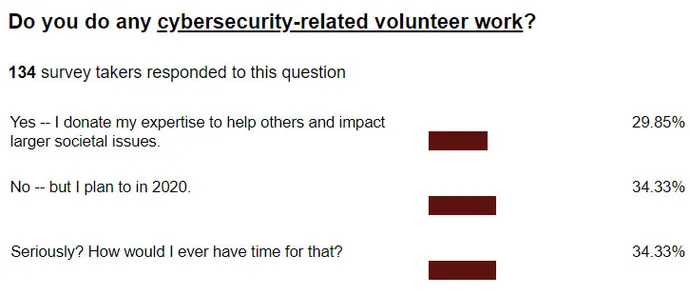 As you can see, the majority of respondents agree giving back is important. Nearly 30% of 134 respondents indicated they are doing cybersecurity-related volunteer work. Another 34% said while they don't now, they plan to so in 2020.
As for the rest, we get it. There are only so many hours in the day. Know that your work is appreciated.
And if you can spare just a minute, please take The Edge's new poll.