Hardware Hacker Demos Zombie Drone Hijacker
The SkyJack drone automatically seeks out and hijacks other nearby Parrot drones. Will this mean trouble for Amazon's planned drone delivery fleet?
Efforts to develop drones that can handle a number of routine tasks, such as restocking warehouse shelves or delivering parcels and pizza, keep garnering headlines. But what if hackers could hijack those unmanned aerial vehicles and turn them into "little zombie drones"?
In fact, that's the promise of a newly announced drone-hijacking program called SkyJack, which was developed by privacy and security researcher Samy Kamkar.
"SkyJack is a drone engineered to autonomously seek out, hack, and wirelessly take over other drones within WiFi distance, creating an army of zombie drones under your control," Kamkar said on his autonomous drone hacking project site.
"I developed a drone that flies around, seeks the wireless signal of any other drone in the area, forcefully disconnects the wireless connection of the true owner of the target drone, then authenticates with the target drone -- pretending to be its owner -- then feeds commands to it and all other possessed zombie drones at my will," Kamkar said. He also uploaded to YouTube a semi-gonzo basement demonstration of a target Parrot drone -- connected to his iPad -- being forcibly disconnected and compromised via his automated "drone strike" software.
[ Devices are replaceable; Mobile Security Is All About The Data. ]
To date, his SkyJack drone, which uses a Parrot drone that he's modified, is only able to hijack similar Parrot drones.
The project is surprisingly affordable; Kamkar said the cost of building a SkyJack drone is less than $400. The full list of required hardware includes a Parrot AR.Drone 2, which retails for about $300, plus a credit-card-sized Raspberry Pi computer (about $35) that runs Linux, an Alfa AWUS036H wireless transmitter (about $20) with 1000mW of broadcast power, and a USB battery pack. That power supply needs to remain relatively light, however, because the drone has a carrying capacity of only about 400 grams.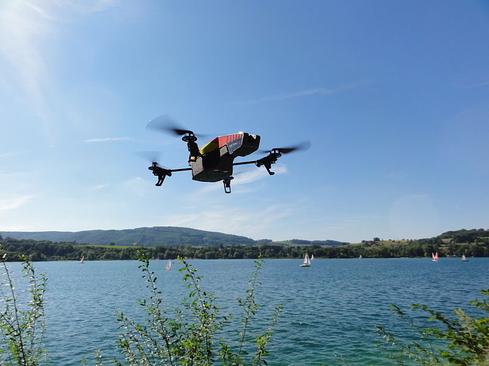 On the software side, Kamkar's SkyJack buildout calls for the aircrack-ng key-cracking program, which can forcibly disconnect a target drone's WiFi connection. After that happens, Kamkar's drone-strike software connects to the drone using the node-ar-drone JavaScript library, which can be used to communicate with and control any Parrot AR Drone 2.0.
Kamkar has released his SkyJack code on Github.
Once a drone has been compromised, Kamkar said his drone-strike software "starts actually recording images from the front-facing camera, as well, and you can watch that live." In addition, an attacker can remotely connect to the SkyJack drone to retrieve feeds of -- and control -- all in-range compromised drones.
Furthermore, using his drone-strike software, not all attacks need be launched from an aerial platform. "SkyJack also works when grounded as well, no drone is necessary on your end for it to work," he said on the project overview page. "You can simply run it from your own Linux machine/Raspberry Pi/laptop/etc and jack drones straight out of the sky."
News of the SkyJack project comes hot on the heels of Amazon publicizing tests it's been conducting with drones -- known as octocopters -- in its quest to one day deliver goods of up to five pounds by air, future FAA regulations permitting. Cue "Amazon Prime Air."
For the cynically inclined, that news was delivered in a 60 Minutes interview Sunday with Amazon CEO Jeff Bezos, which aired on the eve of Cyber Monday. That, of course, is a day cooked up by online retailers to urge consumers to buy more of their wares.
Timing aside, Wall Street is bullish on drone technology. According to Bloomberg, in the first nine months of 2013 venture capitalists invested a total of $40.9 million in drone startups.
With that level of investment, it's unlikely that even the efforts of hackers wielding autonomous drone hijacking software would ground investors' exuberance in drone technology.
Knowing your enemy is the first step in guarding against him. In this Dark Reading report, Integrating Vulnerability Management Into The Application Development Process, we examine the world of cybercriminals -- including their motives, resources, and processes -- and recommend what enterprises should do to keep their data and computing systems safe in the face of an ever-growing and ever-more-sophisticated threat. (Free registration required.)