This week, Yale University revealed one of the school's databases was breached nearly a decade ago, affecting an unknown number of alumni, professors and staff.
After going unobserved since at least January 2009, the Ivy League school's IT staff finally detected the breach during a vulnerabilities test in June 2018. At that time, system admins noticed a log that indicated a breach occurred sometime between 2008 and 2009.
The breached database included names, Social Security numbers and dates of birth. Yale also found the database stored some email addresses, as well as physical addresses.
Due to the length of time between the breach and its discovery, Yale does not know the perpetrator's identity -- it's doubtful the person or persons will ever be known -- or the full scope of the attack, according to a July 31 statement posted on its website.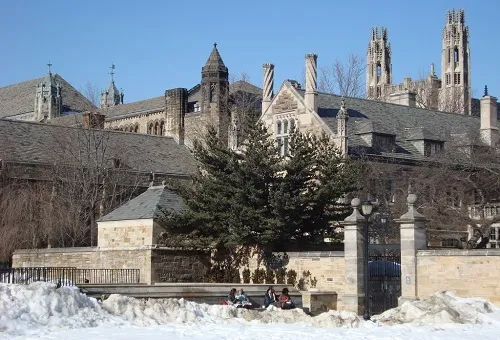 In fact, the school also disclosed it had purged personal information from the database in 2011 -- but IT staff did not detect the breach at the time.
In its statement, Yale administrators noted they are trying to improve the school's overall IT infrastructure and security practices:

Yale has taken a number of important steps to prevent this type of intrusion. First, Yale stopped using Social Security numbers as routine identifiers in 2005, and we regularly seek to identify and delete unnecessary files with personal information. Second, Yale has placed strict limitations on the sharing of Social Security numbers within the University. Third, Yale is systematically testing its data center servers to identify possible vulnerabilities. It was that testing program that led us to discover the intrusion into your information.
The breach at Yale is one of several that have come to light lately, including recent disclosures from LabCorp and other large enterprises that personal data had been compromised. (See LabCorp Investigating Possible Attack & Data Breach.)
The fallout from the 2017 breach at Equifax, which remains under investigation and is still considered one of the largest in history, also remains at the forefront of the ongoing security debate. (See Second Equifax Employee Facing Insider Trading Charges.)
What makes the Yale breach unique is just how long it took to discover. While unusual, security experts believe incidents such as these are reasons why networks need more monitoring and testing -- and why responses should happen within minutes and hours, not months and certainly not years.
"Yale is one of many organizations that were breached long ago but failed to take immediate action," Anurag Kahol, CTO of security vendor Bitglass, told Security Now.
---
Zero in on the most attractive 5G NR deployment strategies, and take a look ahead to later technology developments and service innovations. Join us for the Deployment Strategies for 5G NR breakfast workshop in LA at MWCA on September 12. Register now to learn from and network with industry experts – communications service providers get in free!
---
"Unfortunately, countless more of these incidents have yet to be discovered," Kahol added. "While Yale hasn't disclosed much information around how the breach occurred, this event highlights the need for proactive security that is constantly, vigilantly monitoring data. As the era of the cloud marches onward, hackers will become more and more capable of stealing massive amounts of data in the blink of an eye. So, for unsuspecting organizations that lack adequate protections, the threat of data leakage will only increase."
Rick Moy, chief marketing officer at Acalvio, which makes detection and defense security tools, noted Yale started to do the right thing by conducting network tests that eventually detected the old breach. However, institutions must conduct more threat hunting exercises within their networks.
"It is prudent for organizations to periodically perform hunting exercises for active and past intruders, including hiring outside teams that go beyond the basic vulnerability assessment," Moy wrote in an email. "This can often just be a scan that ends up as a dust-collecting report."
Related posts:
— Scott Ferguson is the managing editor of Light Reading and the editor of Security Now. Follow him on Twitter @sferguson_LR.