At this point, we'd all like to think we know about the web. After all, with more than 25 years of web experience behind us, how much more can there be to know about web security? Right? As it turns out, there's still a lot to learn, with more issues, threats, hacks and vulnerabilities coming online every day. To get an idea of just how much there is to know, we're talking with Chris Olson, CEO of The Media Trust on this week's episode of Voice of Security Radio.
Register here and mark your calendar for 3:00 p.m. EDT on Thursday, July 13 when we'll welcome Chris Olson, CEO of the Media Trust to join us as we look at the hidden cracks and crevices where hackers can lie in wait to spring out and wreck our web experience. Will it be scary? Probably. But the fright will be worth it when we're able to take a clear look at our web applications and experiences to see how they can be made safer, more productive and more secure.
---
Want to learn more about how LTE-A Pro and Gigabit LTE will impact the 5G market? Join us in San Francisco for LTE Advanced Pro and Gigabit LTE: The Path to 5G event -- a free breakfast collocated at Mobile World Congress Americas with a keynote address by Sprint's COO Günther Ottendorfer.
---
Olson is the chief executive officer and co-founder of The Media Trust, where he drives the company's vision, direction and growth plans. He has more than 15 years of experience serving as a CEO for high tech and ad technology startups and established companies. He has extensive experience leading domestic and international software development, product and sales teams.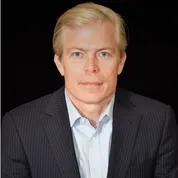 Prior to The Media Trust, Olson created an Internet-based transaction system to research, buy and sell media for TV, radio, cable and online media. Olson started his career developing and managing equity and fixed income electronic trading desks for Salomon Brothers, Citibank and Commerzbank AG. Olson currently serves on the board of the Interactive Advertising Bureau's Advertising Technology Council. He regularly speaks about cybersecurity trends and best practices at industry events, including events hosted by the Financial, Media, and Retail & Commercial ISACs.
Olson earned his BS degree in finance, international business and German area studies from Georgetown University in Washington, DC in 1993. He earned his Executive MBA in finance and information systems from the New York University Stern School of Business in 1999.
Can the web be truly secure? How do you walk the tightrope between security and a good user experience? We'll talk with Olson about these and other issues on this week's Voice of Security Radio. Register here and join us at 3:00 p.m. EDT on Thursday, July 13 for a very important episode. And remember: You'll have a chance to ask your own questions when you join the conversation around the episode. When the on-air portion ends, Chris will join the discussion to answer your questions directly -- and that's something you won't want to miss.
— Curtis Franklin is the editor of SecurityNow.com. Follow him on Twitter @kg4gwa.