The US government has issued a warning about an ongoing scheme targeting ATMs around the world that it calls "FASTCash." It appears to be the handiwork of Hidden Cobra, a notorious hacking group backed by the North Korean government.
The October 2 warning was issued by the US Computer Emergency Readiness Team (US-CERT) in conjunction with the FBI, Department of Homeland Security and the Treasury Department.
Hidden Cobra, which is also known as the Lazarus Group, has been linked with several large-scale attack operations during the past several years, including involvement in the WannaCry ransomware attack of 2017, as well as the hacking of Sony Pictures in 2014. It's one of the most prolific Advanced Persistent Threat (APT) groups active today. (See FBI & DHS Warn About 2 North Korea Malware Threats .)
Since the beginning of this year, US authorities have issued other warnings related to Hidden Cobra, as well as other North Korea-backed groups. (See Researchers Show That Code Reuse Links Various North Korean Malware Groups.)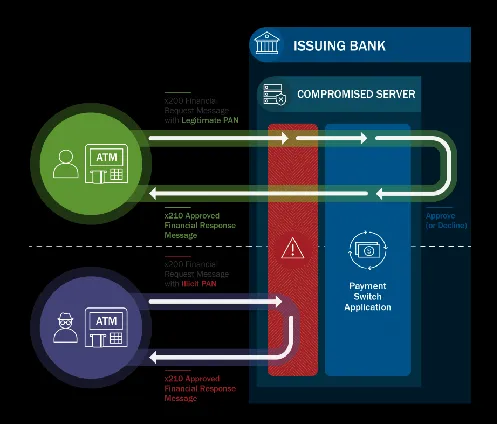 With FASTCash, attackers targeted ATMs mainly in Asia and Africa and collected tens of millions of dollars by cashing out these machines simultaneously, many times using small accounts set up by Hidden Cobra. In 2017, the group targeted ATMs in 30 different countries as part of an attack, and this year another 23 countries were part of a similar scheme.
So far, Hidden Cobra has not targeted banks and ATMs in the US.
The analysis by US-CERT finds that the group has targeted switch application servers with malware in order to gain access to the internal systems of banks. These servers serve as a hub between the internal systems and the ATM and help validate a user's account with the ATM that is being used to access cash.
The initial infection vector that helped the group gain access to the servers is not known yet, but CERT notes that the group has extensive knowledge of International Standards Organization (ISO) 8583, which is a major standard for financial transaction messaging.
In addition, the group may have used spear-phishing techniques to target bank employees in order to gain some access to internal systems.
"HIDDEN COBRA actors have configured and deployed legitimate scripts on compromised switch application servers in order to intercept and reply to financial request messages with fraudulent but legitimate-looking affirmative response messages," according to the CERT analysis.
"Although the infection vector is unknown, all of the compromised switch application servers were running unsupported IBM Advanced Interactive eXecutive (AIX) operating system versions beyond the end of their service pack support dates; there is no evidence HIDDEN COBRA actors successfully exploited the AIX operating system in these incidents."
The analysis is based on ten different malware samples that have been studied by the National Cybersecurity and Communications Integration Center (NCCIC).
It does appear that Hidden Cobra used malicious Windows executable applications, command-line utility applications, and other files in order to interact with the different financial systems, as well as the infected switch application serves.
The CERT analysis recommends that network administrators and security teams review history logs of all users who had root privileges to the compromised systems. This would show if Hidden Cobra scripts were used.
In addition, the report recommends using two-factor authentication for anyone needing access to the servers, as well as encrypting data in transit.
Related posts:
— Scott Ferguson is the managing editor of Light Reading and the editor of Security Now. Follow him on Twitter @sferguson_LR.