Strava is a fitness app that likes to think of itself as a social network for athletes. It has come out that it may be a little more social about things than anyone realized.
Nathan Ruser, a 20-year-old from Australia, figured out that if the heat map that Strava generates was looked at deeply, it was possible to derive the location of soldiers who were using it. Military people tend to be the kind of people who want this sort of enhanced tracking of their workouts.
Strava released their global heatmap. 13 trillion GPS points from their users (turning off data sharing is an option). https://t.co/hA6jcxfBQI … It looks very pretty, but not amazing for Op-Sec. US Bases are clearly identifiable and mappable pic.twitter.com/rBgGnOzasq
— Nathan Ruser (@Nrg8000) January 27, 2018
While only the location of a subject would be visible from a heat map, it's not all that complicated to integrate personal data to the map and derive the person's identity.
Strava put a lot of effort into the generation of this information display -- and using that data to help distinguish the company from others in the crowded fitness field. Even though users can stop their data from being collected, not to do so sort of bypasses the purpose of the app.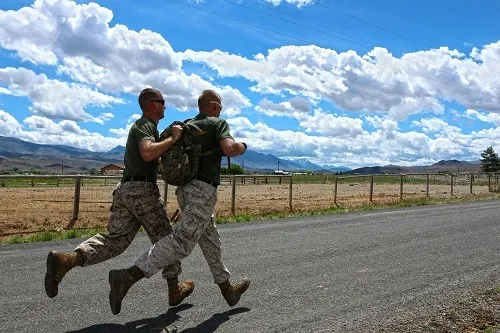 In a PR move, Strava's CEO James Quarles wrote in an open letter dated January 29, which stated that the company would simplify these existing privacy settings and review features "to ensure they cannot be compromised by people with bad intent." Additionally, he noted that the company is "committed to working with military and government officials to address potentially sensitive data."
The overarching problem here is not just what Strava does. It is going to come to the forefront when other geolocating services, such as Foursquare and Pokemon Go, start to cause unintended problems.
However, simple solutions may not always work for these kinds of entwined interrelationships.
Eugene Tan, of Singapore's Nanyang Technological University's S Rajaratnam School of International Studies (RSIS), notes: "Even if we banned fitness apps, would the blackout area... not become a sensitive area that raises suspicions? A ban would then be counter-productive."
A lack of signal is still a signal sometimes.
Tan has a positive outlook:
We need to be more nimble around technology as a nation, and not jump to ban everything. Technologies are going to evolve, and the challenge is how we live with them, not without.
How nations adapt and use technology is the underlying situation here. Tech has risks and rewards. Strava seems to have thought out how to deal with outlier cases of use by putting in its own opt-out method. It's not perfect, but it is functional.
If a nation wants control over the information that a soldier leaks to third parties, it must be aware of where those leaks can occur. This one may have been a surprise to most, because it never happened before. However, once known, it can now be factored into decisions.
Related posts:
— Larry Loeb has written for many of the last century's major "dead tree" computer magazines, having been, among other things, a consulting editor for BYTE magazine and senior editor for the launch of WebWeek.