For cybercriminals, "living off the land," has become the new law of the land when it comes to planning and executing attacks against enterprises.
Living off the land (LotL) is now an increasingly popular technique for cybercriminals since it uses tools -- typically those found in newer versions of Windows -- that are already installed on the targeted computers or systems. LotL can also including running simple scripts or shellcode that is embedded in memory. (See WannaCry: How the Notorious Worm Changed Ransomware.)
Since more and more businesses are moving to Windows 10, cybercriminals are taking advantage of a whole host of administrative tools, including PowerShell, Windows Management Instrumentation (WMI) and the Windows Scripting Host that come bundled with the operating systems. Now, a malware attack is likely to start with a PowerShell .ps1 or a Windows Scripting Host .js file as it would with a executable.
The growing use of LotL techniques is one of the key findings of Sophos Labs' 2019 Threat Report, which the company released November 14.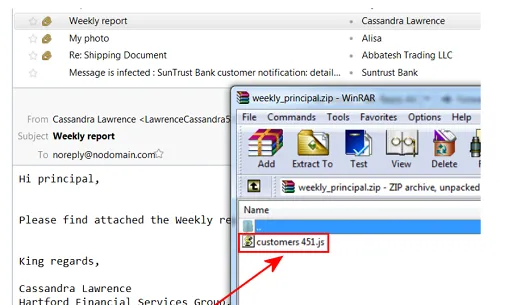 "In the enterprise, you can see that most of the businesses have moved to Windows 10, and that means that Windows Scripting Host is going to be present, PowerShell is going to be present, and those are the two most abused tools," said Chester Wisniewski, the principal research scientist at Sophos, in an interview with Security Now.
"From a defense standpoint, these tools are all or nothing," Wisniewski added. "You can have application security policies to lock down certain apps, and say they are allowed to run or not allowed to run. The problem with that is that the administrators can't run them, and that's a bit of a problem since they are already using these tools to run your environment. So that's what the criminals are counting on."
By using administrative tools, cybercriminals can break up the attack into smaller parts to help evade antivirus tools. In this case, each command and administrative system triggers another part of the attack. The example Sophos uses is a victim double-clicking a malicious .js file, which then triggers an wscript.exe, which then starts a download and this launches a PowerShell.ps1 script and this finally downloads and launches the executable.
"When you are sitting in the lab and you see the whole thing laid out in a chain, you say to yourself, 'Oh that's so suspicious,' " Wisniewski said. "The problem is most antivirus or antimalware software sees all that individually and not as a chain."
When this chain of events is broken down into individual steps, the malware can hide from antivirus and other protective software. This also helps hide the anomalies in the malware from the everyday traffic that flows through the network. As the report explains:

The problem is not limited to a small number of executable file types that have to be observed, tracked, and have their behavior monitored. With a wide range of file types that include several "plain text" scripts, chained in no particular order and without any predictability, the challenge becomes how to separate the normal operations of a computer from the anomalous behavior of a machine in the throes of a malware infection.
Lessons from SamSam
In addition to LotL techniques, Sophos researchers found how attackers are delivering ransomware is changing, with cybercriminals taking a more hands-on approach and using less commodity malware. Instead, they are tapping into these administrative tools to hide their efforts for as long as possible.
This pattern of ransomware was first developed by the group behind SamSam that has collected about $6 million in ransom over the last several years. (See SamSam Ransomware Nears $6M Mark in Ill-Gotten Gains .)
In Wisniewski's view, the SamSam group works in much the same way as a typical penetration testing team would when checking an enterprise for vulnerabilities. The attack starts with looking for systems with weak passwords, typically outward facing Remote Desktop Protocol (RDP) servers and using brute-force attack methods to steal the credentials.
Once inside the perimeter, the SamSam group maps the networks over a 24- to 72-hour period, looking for valuable data -- databases, for example -- and disabling or erasing backup files, so that when the files are locked, the company can't recover and the ransom is paid, mostly in cryptocurrency.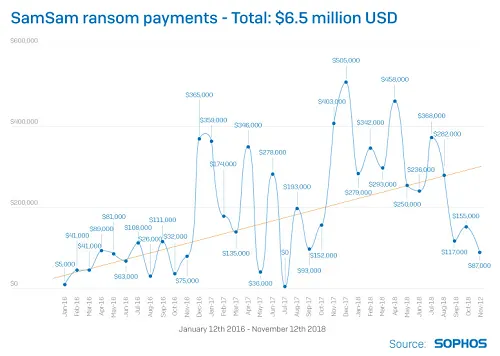 SamSam has faded over the last few months -- Sophos only found one incident report in all of October -- but these types of more labor intensive and hands-on techniques have given rise to other ransomware attacks, including BitPaymer and Dharma.
The advantage for the security team is that a human-centric attack does give some time to stop or limit the attack, if the anomalies are found within the windows of time that attackers are using to set up the attack.
"Unlike a bot-style attack, where you open up an attachment and -- boom -- your computer is locked with ransomware, since it's human operated and it takes them 24- to 72-hours to do their survey to find the valuable assets in your network... if you can react quickly, you can often maintain or eliminate the damage before it occurs," Wisniewski said. "If you get that alert, you have time. If you notice the anomaly and you detect it, you're not screwed yet and that's new because most of the attacks have been automated."
The downside is that handy administration tools, such as PowerShell, can no longer be trusted in the same way. "Most of us are not going to give up our tools and as a security community, I don't think we have come up with a good answer to that problem yet," Wisniewski added.
Related posts:
— Scott Ferguson is the managing editor of Light Reading and the editor of Security Now. Follow him on Twitter @sferguson_LR.