A series of cyber attacks between Christmas and New Year's Day that targeted businesses ranging from newspaper printing presses to a cloud service provider are being tied to a specific strain of ransomware called Ryuk.
The attacks first came to light on Thursday, December 27, when ransomware hit the printing presses of the Tribune Publishing company. Tribune not only prints its own newspapers, but contracts with other companies, including the Wall Street Journal and the New York Times.
It appears the attack started when editors of the San Diego Union-Tribune attempted to send updates to the paper's sports section late in the day, according to the Las Angeles Times, which was also affected by the attack. The ransomware appears to have locked up the various computer systems, although it's not clear if the attackers sought any ransom.
A screenshot of the ransomware email noted the words "RyukReadMe" on the note, according to the Times.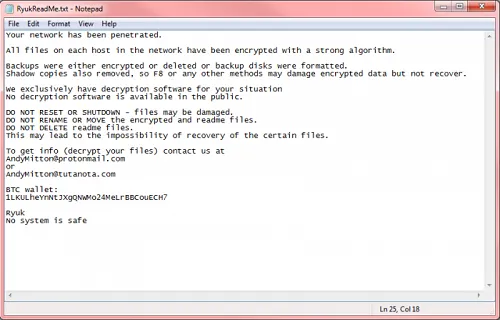 Then, on Wednesday, January 2, journalist Brian Krebs reported that Data Resolution, which provides cloud and other hosting services for about 30,000 customers, was also hit with the Ryuk ransomware.
In his report, Krebs noted that the company discovered the ransomware within its data center, when the malware locked up some systems for a short time. It does not appear that customer data was compromised, although Data Resolution is working on restoring systems after they were shut down to prevent the malware from spreading any further.
While other types of ransomware are spread through phishing emails and exploit kits, Ryuk is much more targeted, specifically encrypting critical systems within a network, according to Check Point Research, which published a detailed analysis of the malware in August.
Although Ryuk attacks have mainly focused on small-scale operations, the group behind it has managed to collect about $640,000 in ransom, mainly in Bitcoin, since it was first detected. In addition, there are similarities between Ryuk and another ransomware called HERMES, which means that the malware likely originated with the Lazarus Group, a North Korea-backed Advanced Persistent Threat (APT) group that is better known for the Sony Pictures attack, as well as WannaCry. (See APTs in 2018: A Mix of Old & New.)
In several ways, Ryuk is similar to SamSam, another ransomware strain that used targeted methods, as opposed to WannaCry, which spread much further using techniques such as phishing. (See Iranian Hackers Charged With Creating SamSam Ransomware.)
Although ransomware attacks declined between 2017 and 2018, many security experts believe that this type of malware remains a potent security threat to enterprises, especially as methods of attack become more sophisticated. (See Ransomware, New Privacy Laws Are Top Security Concerns for 2019.)
Additionally, the use of ransomware to target cloud service providers is a trend that the security community has started to take notice of recently. When the US Justice Department charged two Chinese nationals with belonging to the APT10 Group in December, one of the main targets included a service provider. (See Justice Department Ties 2 Chinese Nationals to Notorious APT10 Group.)
Rishi Bhargava, a co-founder of Demisto, a security automation and orchestration and response firm, noted in an email to Security Now that cloud service providers offer a wide attack surface for attackers to target.
"Specifically, the wide surface over which cloud resources are allocated leads to a 'visibility problem' and attackers can target systems that fall under the security radar," Bhargava wrote.
Bhargava added that the vast amount of data that these managed service and cloud providers collect also make them tempting targets, especially by locking up systems and platforms used by multiple customers.
"Another problem inherent to security attacks on cloud providers is the wealth of sensitive company data available for compromise after a well-targeted attack," Bhargava added. "Fortunately, it seems like data theft wasn't on the attackers' agenda in the Data Resolution attack. But since the databases are still being cleaned and backups are being restored, we'll have to wait and hope that users don't suffer long-lasting repercussions."
Related posts:
— Scott Ferguson is the managing editor of Light Reading and the editor of Security Now. Follow him on Twitter @sferguson_LR.