The RIG exploit kit has recently shown new life through the use of a zero-day exploit, which researchers believe was first used by attackers associated with the North Korean government.
The exploit (CVE-2018-8174) affects VBScript, which is the Visual Basic scripting engine that is part of Internet Explorer and Microsoft Office. It is a remote code execution vulnerability.
Qihoo 360, a Chinese security firm, first noted the use of this attack against Internet Explorer in April and notified Microsoft, which patched it in May. The Chinese researchers noted: "Attackers can embed malicious VBScript to Office document or website and then obtain the credential of the current user, whenever the user clicks, to execute arbitrary code."
Attacks at the time were limited to those of interest to North Korea, according to Qihoo, adding:

According to the sample data analysis, the attack affected regions in China are mainly distributed in provinces that actively involved in foreign trade activities. Victims include trade agencies and related organizations.
Malwarebytes Labs researchers also wrote about the exploit.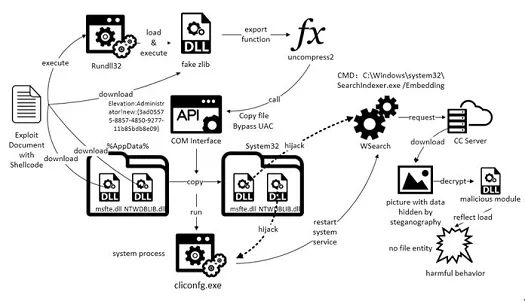 Since IE has been displaced as the default browser for most users, the use of a Word document as an infection vector -- rather than hiding it in a website frame -- may have been done solely to cause the VBScript engine to be engaged and then exploited. Having it in a website does not ensure IE will have been loaded by the user.
Qihoo researchers described the attack mechanism in some detail:

Once victims opened the lure document, Word will firstly visit a remote website […] to trigger the exploit. Afterwards, Shellcode will be running to send several requests to get payload from remote servers. The payload will then be decrypted for further attack. […] While the payload is running, Word will release three DLL backdoors locally. The backdoors will be installed and executed through PowerShell and rundll32. UAC bypass was used in this process, as well as file steganography and memory reflection uploading, in order to bypass traffic detection and to complete loading without any files.
The point of all the description is to show the attack itself is fairly sophisticated. It's designed to load the malware in a multi-stage method without the need for onboard files -- so that they will not be detected. It operates in a stealthy manner, and one that at the same time does not easily lead to identification from files that are left over.
After the publicity, Proof of Concept code was written up, as well as a Metasploit module. This probably aided the RIG malware authors, who used RIG to deliver their malware.
---
Now entering its fifth year, the 2020 Vision Executive Summit is an exclusive meeting of global CSP executives focused on navigating the disruptive forces at work in telecom today. Join us in Lisbon on December 4-6 to meet with fellow experts as we define the future of next-gen communications and how to make it profitable.
---
The RIG exploit tries to redirect IE users to web pages that are actually hosting the RIG exploit kit. RIG will try to get the "Smoke Loader" malware loaded as the second stage of the attack by use of the same VBScript vulnerability. Smoke Loader -- as the name suggests -- goes out and loads the final third-stage payload malware from a server.
In the cases observed by Trend Micro, the payload is a miner for Monero cryptocurrency.
So, a sophisticated zero-day with espionage origins ends up mining for digital currency by using an old war horse of an attack vector, the RIG EK. Greed seems to win out over sophistication every time.
Related posts:
— Larry Loeb has written for many of the last century's major "dead tree" computer magazines, having been, among other things, a consulting editor for BYTE magazine and senior editor for the launch of WebWeek.