The cryptomining malware craze continues unabated with the discovery of a Google Chrome malware extension that steals credentials, as well as installing cryptomining scripts.
Radware posted a blog noting that researchers had discovered the scheme on May 3.
It propagates through social engineering done on Facebook. Specifically, it uses links that will tag victims or alternatively message these targets. Should the victim click the link, they are directed to an attacker-controlled page on YouTube that tells them to install an extension so that they may play the video content.
The extension then connects the victim to a botnet that performs credential theft, cryptomining, click fraud and more.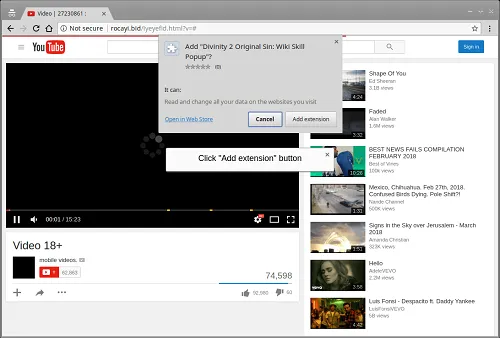 Radware notes: "The malware depends on Chrome and runs on both Windows and Linux. It is important to emphasize that the campaign focuses on Chrome browsers and Radware believes that users that do not use Chrome are not at risk."
The researchers found that over 75% of the infections cover the Philippines, Venezuela and Ecuador. The remaining 25% are distributed over 97 other countries.
The extension hijacks another Chrome extension named Nigelify, which replaces images displayed on a web page with pictures of cartoon character Nigel Thornberry. The malware was named Nigelthorn by Radware for this reason. The malware contains a short, obfuscated malicious script that initiates the malware operation.
Radware believes that hijacking was done to bypass Google's extension validation checks. Indeed, researchers found seven strains of this malware with different extension names, four of which have been blocked by the validation checks. As of this writing, Nigelify, PwnerLike and iHabno remain active, although that may change.
These types of crooked extensions are one reason why Google announced that it would ban all cryptomining extensions in the Chrome store by year's end. (See Google Web Store Bans Cryptomining Extensions.)
The malware first goes after Facebook login credentials or Instagram cookies. If a cookie is found, it is run against a Facebook API to generate an access token.
With this token, a Messenger message can be generated or a tagged post created for up to 50 of the user's contacts.
The malware will go on to download a mining tool that is based on the "CryptoNight" algorithm that allows mining through any CPU. Currencies that are mined include Monero, Bytecoin and Electroneum.
---
The fundamentals of network security are being redefined -- don't get left in the dark by a DDoS attack! Join us in Austin from May 14-16 at the fifth annual Big Communications Event. There's still time to register and communications service providers get in free!
---
Radware noted that approximately $1,000 in cryptocurrency was mined over six days, mostly from the Monero pool. Further, the malware seems to try and initiate click fraud on YouTube. The command server will give the malware instructions to either watch, like or comment on a video or to subscribe a page.
The malware uses some nasty tricks to stay persistent and keep Facebook activity going. For example, should the user try to open the extensions tab in order to remove the extension, the malware closes it and prevents removal.
Radware found that the malware attempts to prevent access to what seems to be Facebook and Chrome cleanup tools and will even prevent users from making edits, deleting posts and making comments.
This type of malware is atypical in how it propagates -- Facebook -- and in the use of Chrome alone as its vector. It serves as a reminder that many different approaches will be undertaken by cybercriminals in their quest for ill-gotten gains.
Related posts:
— Larry Loeb has written for many of the last century's major "dead tree" computer magazines, having been, among other things, a consulting editor for BYTE magazine and senior editor for the launch of WebWeek.