Safe Links is a program run by Microsoft as part of the Office 365 Advanced Threat Protection (ATP) effort. What it does is to check URLs that may be embedded inside an email, attempting to see if they are malicious by comparing them to a known blacklist.
If it comes up on the blacklist, it is replaced by Office 365 and the user is notified.
It sounds like a good idea -- automating security so it is transparent to the user. By forcing the URL check to be done, the success rate of phish attacks may be reduced.
But there's a problem here.
It seems the phishers have found a way to bypass Safe Links and ATP entirely. Yoav Nathaniel, a researcher at the Avanan, a cloud security company, posted a method that researchers have observed phishers using that does exactly that.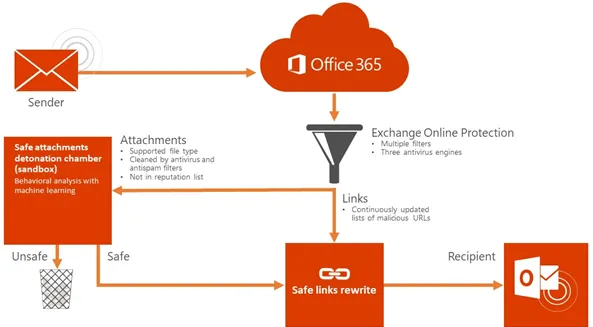 Avanan researchers call the exploit baseStriker. It involves splitting and disguising a malicious link using a tag called the URL tag along with the href tag.
The problem is that Safe Links only checks the base domain and will ignore the remainder of the URL. Such a link will not be replaced by Safe Links as it should be and it is passed through to the user. The user then will be allowed to go to the phishing site the URL points to without interference or any warning.
Avanan explains: "At one time, email clients did not support the tag, so every link need to be an absolute URL. Support for relative URLs in email is a recent development and the behavior is client dependent."
While an older email client would have ignored the base tag, newer ones can handle them and create a clickable link from it.
This means that such a bypass will work on the Outlook clients, including the web-based, mobile and desktop applications.
Interestingly, when the Avanan team ran several tests, the results show that this exploit doesn't work on Google's Gmail, as well as other security solutions, such as Mimecast MTA. However, other security tools, such as Proofpoint MTA, are vulnerable.
---
The fundamentals of network security are being redefined -- don't get left in the dark by a DDoS attack! Join us in Austin from May 14-16 at the fifth-annual Big Communications Event. There's still time to register and communications service providers get in free!
---
While researchers have only seen hackers using this vulnerability to send phishing attacks, the company finds that it is also theoretically capable of distributing ransomware, malware and other malicious content.
Although Avanan has notified Microsoft and Proofpoint about its findings, there seems to be no solution currently available for the exploit. The company also recommends that users be on a higher state of alert for these mail-based attacks.
Two-factor authentication may aid in the credential harvesting possible from the exploit, but would do nothing for phishing and malware attacks.
Related posts:
— Larry Loeb has written for many of the last century's major "dead tree" computer magazines, having been, among other things, a consulting editor for BYTE magazine and senior editor for the launch of WebWeek.