While logging into his own Pacific Gas & Electric (PG&E) account in 2016, independent security researcher Justin Troutman noticed something odd.
The California-based utility company, which serves 5.2 million households in the northern part of the state, allowed him to access his account without a password. It simply required either an account number or a last name, zip code and billing address.
Addresses are not difficult to find out using people search sites, and Troutman is quick to point out that it's not difficult to find account numbers online, either. All it takes is a quick Google search of "PG&E" + "my account number is," or a glance at the California Public Utilities Commission website, which includes archives of public documents with cases they've been a part of -- many of which include unredacted account numbers.
For example, he points to an archived email PDF from a California Public Utilities Commission dispute and investigation, where the account number was redacted multiple times but was unredacted in one instance at the end of the document. There's also a San Mercury News article that includes a photograph of a customer holding an unredacted bill. If the account was a business rather than residential account, PG&E accepts the last four digits of tax ID numbers, which are often posted on websites for non-profit organizations, and otherwise not difficult to find.
It would be one thing if users could simply pay their bills without a password, but that's not all Troutman noticed he was able to do.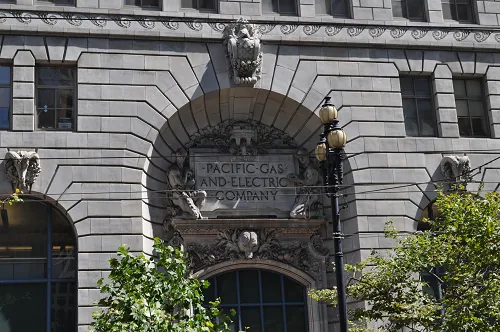 "PG&E actually gives you a substantial amount of account access and the ability to change critical information without any password," Troutman said in an interview. He could change credit card information, gain access to billing information, schedule pilot light appointments, add or change contact numbers, and even stop or transfer service.
Oddly enough, this guest login does limit the information you can view. While you can see the basic breakdown of electric and gas and any current or past due charges, you can't view PDF versions of your full bill.
In a statement, a spokesperson for the utility said that banking information and energy data usage is considered personally identifiable information (PII), per California regulations, and that PG&E is not aware of any service disruption complaints due to the company allowing account access without a password.
Since Troutman was so confident that complete sets of data could be found for each of these cases easily, he reached out to PG&E's general counsel and its privacy manager, who let him know that they'd identified the issue and would address it.
One would expect them to do so by requiring users to enter a password.
The utility company could additionally offer multi-factor authentication -- it wouldn't be the first. Instead, PG&E "fixed" the issue by requiring users to enter the last four digits of their social security number in addition to either their account number or their last name and zip code, a solution that Troutman believes is inadequate.
SSNs are readily available from leaks of credentials online, as well as services that use it for authentication, such as companies that store it to verify accounts, which could allow disgruntled employees to access the information to target someone. Business account requirements appear unchanged, which means that those accounts can be accessed with publicly discoverable information.
"It seems bizarre that a password-less login would allow you to start, stop, or transfer service; just being able to see someone's bill details, name, and address, is a privacy violation in itself," Troutman said. "What if I schedule a service cut-off for someone while they're on vacation (e.g., lost perishables in fridge) or a small business during holidays (e.g., electricity to server room cut-off)? Or how about disrupting gas heat service to someone elderly and/or disabled in the middle of winter?"
---
Boost your understanding of new cybersecurity approaches at Light Reading's Automating Seamless Security event on October 17 in Chicago! Service providers and enterprise receive FREE passes. All others can save 20% off passes using the code LR20 today!
---
When asked about the company's privacy policies, PG&E spokesperson John Kaufman wrote in a statement:

At PG&E, keeping our customers' information secure is incredibly important to us. That's why we use standard practice protocols -- the same ones we use for customers calling our call center -- for our One Time Access feature. Customers appreciate the convenience of completing certain transactions through One Time Access, which is one of several features we offer to make it easier to do business with us.
Troutman felt that the fix was inadequate, so he reached out to PG&E again, sending emails to the general counsel, the privacy manager, the customer privacy manager, and the director of risk compliance and privacy. Besides PG&E's general counsel forwarding his bounced email to the customer privacy manager, he did not receive a response.
In the statement, PG&E insisted that it's continually looking at its authentication standards and ways to improve how it protects customer information, but pointed out that authenticating users through partial SSN is "common industry practice" and that it's aware of several utilities that do this.
It's not clear whether any of these utilities allow authentication via partial social security numbers without a password, like PG&E does.
Related posts:
— Yael Grauer is a tech reporter covering online privacy, security and digital freedom. She's written for The Intercept, Wired, Ars Technica, Motherboard, Slate and more. She's also the author of the college textbook Business Writing: A Content Marketing Approach. Follow her on twitter @yaelwrites .