The USB Implementers Forum (USB-IF), a non-profit organization based in Beaverton, Org., and Shenzhen, China, is launching its USB Type-C Authentication Program, which will help define cryptographic-based authentication for USB Type-C chargers and devices.
The organization announced the new standards on Wednesday, January 2.
Under these new guidelines, the protocol is invoked when a device is first connected, before any power or data has been transferred.
While specific details of the authentication program were not discussed in the announcement, the USB-IF described overall goals and features.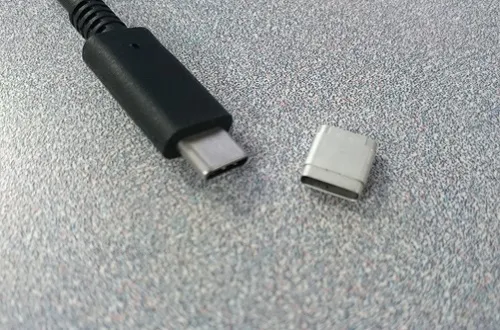 Key characteristics include a standard protocol for authenticating certified USB Type-C chargers, devices, cables and power sources, as well as support for authenticating over either USB data bus or USB Power Delivery communications channels.
In its announcement, USB-IF notes that products using the authentication protocol will retain control over the security policies that are implemented and enforced.
The protocol will use 128-bit security for all "cryptographic methods," and the specification references "existing internationally-accepted cryptographic methods for certificate format, digital signing, hash and random number generation." DigiCert will manage the PKI and certificate authority services for the USB Type-C Authentication Program.
This effort arises during new scrutiny over the security risks that are inherent in the use of USB devices. A USB flash drive has long been viewed as a potential malware delivery device, and this effort attempts to reduce attack surfaces by dealing not only with data infiltration but any attempt to subvert the power train. (See IBM's USB Ban Earns Some Praise, Some Skepticism.)
In December, Google gave Chromebook owners the option to disable the USB port -- via a feature it calls USBGuard -- when the computer is in a locked state to help prevent such attacks.
This follows Apple's action in iOS 11.4.1 that required users to unlock their device after an hour of inactivity before the OS would allow any activity over a USB port.
Extending the USB ecosystem, the USB 3.0 Promoter Group, which includes Hewlett-Packard, Intel, Microsoft, Renesas Electronics, STMicroelectronics and Texas Instruments, also released one revision and one new specification.
The updates are developer-only for now. The recommended consumer and end-user terminology for USB Power Delivery (USB PD) is unchanged.
The USB Power Delivery 3.0 revision includes the enabling of authentication message exchanges over the USB PD communications channel for standard USB Type-C cables to USB Type-C devices.
The new item is the USB Type-C Bridging specification that will provide the necessary method for bridging messages to and from a USB PD link over the USB data bus. It enables a USB host to communicate with the USB PD interface of a downstream port in a connected USB hub.
This effort can have major positive effects on USB security, which has been problematic in the past. By updating what is expected of a USB device in hardware, vendors may be able to stave off the negative effects of uncontrolled USB use.
Related posts:
— Larry Loeb has written for many of the last century's major "dead tree" computer magazines, having been, among other things, a consulting editor for BYTE magazine and senior editor for the launch of WebWeek.