SAN FRANCISO -- With the WannaCry and NotPetya attacks still fresh in the minds of the security community, Brad Smith, Microsoft president and chief legal officer, believes 2017 needs to serve as a wake-up call for businesses and enterprises of all sizes, as well as those vendors looking to protect customers.
At the opening of the 2018 RSA Conference here on Tuesday, Smith noted that while the lessons of 2017 are important to remember, the industry has been making strides since he spoke to the same gathering 14 months ago. But more work is needed as the cyber-threat landscape changes.
"Last year was a wake-up call," Smith said. "Unlike most other years, you can mark the precise day of that wake-up call. It came on the morning of the 12th of May."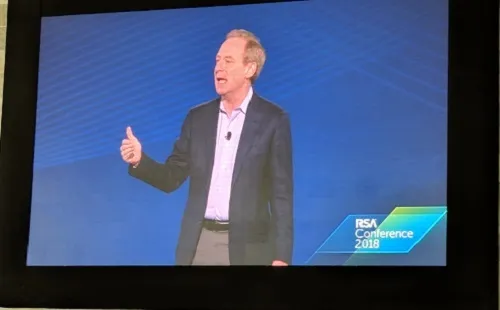 That is the day the ransomware attack known as WannaCry started in Spain and moved to the UK before spreading to the entire world. At last count, the attack made its way to over 150 countries and caused $4 billion worth of damage worldwide, according to estimates. (See Kaspersky Names WannaCry 'Vulnerability of the Year'.)
The other incident is NotPetya, an attack that targeted Ukraine and is believed to have been started by Russian-backed groups, although no one has taken full responsibility. However, the US and UK governments have pointed the finger at Moscow. (See UK Accuses Russia of Launching NotPetya Attacks.)
"What did that wake-up call tell us?" Smith asked the crowd. "We need to hear that call. We need to understand that call. We need to heed that call."
Smith noted that what made WannaCry, and especially NotPetya, so dangerous is that they targeted civilians at a time of relative peace and stability -- a break with norms that stretch back to the end of World War II and the world order that emerged from that conflict.
"If there was a message that we convey to the governments of the world, it's that this is not just attack on machines, it's an attack on people's lives," Smith said.
---
The fundamentals of network security are being redefined -- don't get left in the dark by a DDoS attack! Join us in Austin from May 14-16 at the fifth annual Big Communications Event. There's still time to register and communications service providers get in free!
---
However, there are encouraging developments. Smith singled out Apple improving the security and encryption of the iPhone. He also noted Intel's response to the more recently disclosed side-channel vulnerabilities known as Spectre and Meltdown, even though the chipmaker has been criticized for a slow and awkward response up to this point. (See Intel Will Leave Some Chips Without Spectre Patch.)
And Smith noted Microsoft's own efforts around security, including new ways to protect Internet of Things devices through its Azure cloud. Azure Sphere combines a microcontroller, a new type of operating system with a custom Linux kernel -- Smith noted the irony on stage -- and a new security service.
Finally, Smith announced the formation of a new group of more than 30 tech companies called The Cybersecurity Tech Accord that vowed to protect customers of all kinds from an array of different attacks, whether criminal or nation-state sponsored.
Related posts:
— Scott Ferguson, is the managing editor of Light Reading and the editor of Security Now. Follow him on Twitter @sferguson_LR