Let me jump straight to the bottom line: For most organizations, hiring a managed security service provider (MSSP) is the right way to secure your network, your IT assets, your data, your employees and your customers.
If you take away nothing else from this essay, it's that MSSPs are a good idea.
That doesn't mean there aren't some misgivings, which I'll get to in a moment. But first, let me recap some of the reasons why full-service MSSPs are worth the expense for most businesses:
The MSSP has the IT staffing to offer round-the-clock monitoring and response with trained security staff. You probably don't.
The MSSP can attract, hire, train and retain security staff more easily than most organizations.
The MSSP can also offer a compelling career path within information security, as well as specialties including product-specific certifications and even R&D.
The MSSP can dedicate resources to monitoring threats, such as zero-days and geopolitical concerns, better than most businesses.
The MSSP can evaluate lots of products and services, and share that knowledge with its customers.
The MSSP can learn from incidents at one of its clients, and can apply that knowledge -- like blocking a new IP address that launched a distributed denial of service (DDoS) attack -- to better protect all its customers.
The MSSP can hit the ground running on Day 1, which is often faster than a new InfoSec team can get up to speed.
Certainly, there are many businesses that prefer to manage their own information security. Many enterprises need to scale and essentially organize their own InfoSec department like an in-house MSSP.
That's great.
And while the cost of hiring an MSSP is non-trivial, so is the cost of rolling your own security, including researching products, hiring and training staff and so-on.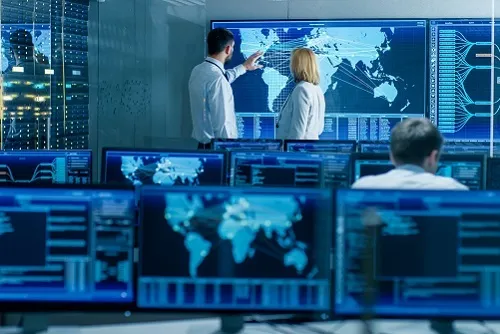 Bear in mind that many businesses, large and small, have trouble staffing security. (See Enterprises Face a Large, & Growing, Cybersecurity Skills Gap.)
If you engage an MSSP, staffing is their problem. And you need more than warm bodies behind the SIEM dashboard. As Curt Franklin wrote in "Cybersecurity Skills Gap Hits Across the Board," when it comes to security staffing, "93% of IT security executives are worried about the skills gap, with more than 40% saying that their organization is already facing a skills gap in meeting security needs."
So, why not let the MSSP worry about that?
The problem with MSSPs
While reiterating that MSSPs are the best answer to cybersecurity for most organizations, let me focus on a few caveats.
First: You can't outsource responsibility. Even if you hire an MSSP, the ultimate responsibility for protecting your assets, data, employees, and customers is yours -- and that's true both in a legal sense and in the world of public opinion. If there's a breach, your CEO is the one on the front page of the Wall Street Journal.
Well, maybe it's your local paper, not the Journal, but you get the idea.
Your MSSP should do an excellent job, and should sign a contract saying they'll do an excellent job. That doesn't mean that you can sign the contract and then forget about security until the contract is up for renewal. That means you'll still need someone on the InfoSec team to monitor the MSSP, work with them on a regular basis, and be available in the event of an incident.
It also means that you shouldn't blindly take their advice
They are advisors, after all. Consultants. If they recommend certain products, or practices, or policies, someone in your organization must be sufficiently knowledgeable and engaged to truly evaluate their advice -- and own the decision.
Second: You have to trust them with the keys to the kingdom. Your MSSP will have extraordinary access to your network, your servers, and your cloud resources. The aforementioned contract should specify that they will not access inappropriate data -- but odds are that they can access most things, unless you practice defense-in-depth with strong access controls. That's your job – not job of the MSSP. (Note that the same risk exists for insiders in your own IT department.) (See Rotten Fruit: 4 Insider Threats to Watch Out For.)
That brings up the question of your MSSP's own security practices. In October, the US-Computer Emergency Response Team (CERT) sent out an alert for Advanced Persistent Threat Activity Exploiting Managed Service Providers. This wasn't focused specifically on security service providers, but it does apply there. The short version: If the MSSP has the keys to your kingdom, and hackers breach the MSSP, the hackers might acquire your keys, too.

MSPs provide remote management of customer IT and end-user systems. The number of organizations using MSPs has grown significantly over recent years because MSPs allow their customers to scale and support their network environments at a lower cost than financing these resources internally. MSPs generally have direct and unfettered access to their customers' networks, and may store customer data on their own internal infrastructure. By servicing a large number of customers, MSPs can achieve significant economies of scale. However, a compromise in one part of an MSP's network can spread globally, affecting other customers and introducing risk.
Is that a huge risk? Probably not.
Is it a bigger risk than your hiring your own cybersecurity staff, and having them work from home, and having their home network breached, and therefore hackers get into your network? Probably not.
I'd like to think that MSSPs are generally pretty tight on their policies in that regard.
Bottom line: MSSPs are good for most organizations. If you're not using an MSSP, you probably should. And when you're evaluating MSSPs, you should consider asking them about those two caveats. Make sure you're comfortable that they'll make recommendations, and it's your job to assume the responsibility, and make sure you're comfortable giving them the keys to your kingdom. And then, sign the contract.
Related posts:
— Alan Zeichick is principal analyst at Camden Associates, a technology consultancy in Phoenix, Arizona, specializing in enterprise networking, cybersecurity, and software development. Follow him @zeichick.