Over the last several months, the group behind Magecart has proven a tricky problem for online retailers with a number of skimmer operations designed to steal credit card information from customers.
Now, a new report by independent security researcher Willem de Groot finds that one out of five online commerce sites targeted by Magecart is re-infected within a short time -- about 10.5 days -- and the average attack continues for about 13 days.
"In the last quarter, 1 out of 5 breached stores were infected (and cleaned) multiple times, some even up to 18 times. This shows that countermeasures taken by merchants and their contracted security firms often fail," de Groot wrote in his November 12 online report.
Essentially, Magecart works by adding code to third-party websites that support larger e-commerce sites. The third parties usually handle credit card transactions from online shoppers when they check out. The code essentially skims the payment data and delivers it to cybercriminals.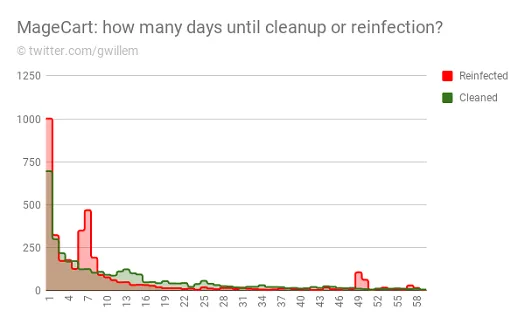 This type of scheme is also known as formjacking, which Symantec researchers have recorded a noticeable uptick in the past few months, likely due to the increase in activity from Magecart. The group behind the attack has been active since 2015, but they have refined their techniques since the start of the year. (See Magecart Group Likely Behind Increase in Formjacking Attacks.)
In the past few months, Magecart targets have included Ticketmaster, NewEgg and British Airways. Additionally, de Groot found the skimming code on the Infowars Store website run by conspiracy theorist Alex Jones.
Alex Jones busted by real info war. I found a magecart skimmer on the infowars store. Jones blames "leftist US intelligence agencies" #infowars #magecart https://t.co/fA6wiNRvhl

— Willem de Groot (@gwillem) November 14, 2018
In his report, de Groot finds that the Magecart group uses four different methods to hide their presence, which allows them to re-infect sites:
The group litters the target site with backdoors and rogue administrator accounts to regain access.
Cybercriminals appear to use reinfection mechanisms, such as database triggers or hidden periodic tasks, to reinstate their payload if they are kicked off.
There are also numerous obfuscation techniques that disguises the malicious code from the legitimate code.
Finally, Magecart attackers appear to use unpublished zero-day exploits.
Some of the online website having problems with re-infections include TechRabbit.com (two times), Kitronik.co.uk (four times) and Zapals.com (four times).
"Researching these requires a significant investment. All in all, it takes some very keen eyes and a lot of effort to clean all traces of a breach," de Groot wrote.
Related posts:
— Scott Ferguson is the managing editor of Light Reading and the editor of Security Now. Follow him on Twitter @sferguson_LR.