If possession is nine-tenths of the law, then undetected physical access is nine-tenths of the way to a successful cyber attack.
Many of us know how to protect servers and routers from unauthorized individuals, whether they're visitors, burglars, trespassers, or employees. Those protections, though, aren't enough.
Security starts at home -- in some cases, literally. Not long ago, my wife and I were staying in a small bed and breakfast that happened to be near a major company's local office. The WiFi access point sat on a table between several of the bedrooms, and had an "insert paperclip to reset" switch.
What are the odds that we could have broken into that unprotected device and potentially configured a hack?
Perhaps a hack that would let us eavesdrop on unencrypted traffic, like email logins or passwords. Maybe we could have overridden the DNS settings, and set up some faux web pages or staged a man-in-the-middle attack. Or even replaced the firmware with a version with a backdoor.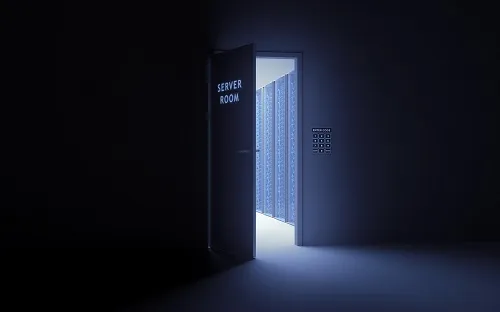 Sure, the odds of a successful payoff might be small from such an attack. What about if we knew that corporate board members would be staying at that B&B next week? If the hardware's not physically secure, then neither is the network.
Far-fetched? Perhaps.
So let's talk about protecting the hardware in official business locations. Are all your servers physically secured from unauthorized access? Maybe. Maybe not. Ask yourself if a thief could unplug a server, stick it on a cart, and walk it out the door during office hours -- or after hours. Or place removable hard drives into a briefcase. (Before the advent of always-on local or cloud backups, removable tapes were pretty easy to pilfer -- and nobody might notice for days or weeks.)
Theft isn't the only worry.
If hackers can get to the servers, they might be able to reboot those devices and make firmware modifications, read unencrypted drives, disable security protections, or plant malware such as keyloggers.
Compared to the one-time theft of a server, such activities could be gifts that keep on giving to malicious actors.
Beyond infiltrating servers, hackers could use physical access to gain access to networking gear or other devices -- and then subvert them. This type of hack is at the heart of what Bloomberg alleged in a controversial story about Chinese spies inserting specialized chips on Supermicro motherboards as part of an elaborate cyber espionage campaign. (See China Hacks Hardware in Spying Attempt on Apple, Amazon & Others – Report.)
Some routers, for example, are configured to disallow out-of-band (that is, remote) control from outside the organization's local area network. If a baddie can get to the management console from inside the LAN, or by using a dedicated management port on the device, hacking became a whole lot easier.
Indeed, as the US-Computer Emergency Response Team (US-CERT) team writes in its June 2018 brief, "Securing Network Infrastructure Devices," that type of hardware are ideal targets for malicious cyber actors because organizational and customer traffic must traverse these critical devices. To quote:
An attacker with presence on an organization's gateway router can monitor, modify and deny traffic to and from the organization.
An attacker with presence on an organization's internal routing and switching infrastructure can monitor, modify and deny traffic to and from key hosts inside the network and leverage trust relationships to conduct lateral movement to other hosts.
A real worry is that network hardware can be neglected by security teams, especially when compared to desktops, servers and mobile devices. Additional risk factors, according to CERT:
Manufacturers build and distribute these network devices with exploitable services, which are enabled for ease of installation, operation and maintenance.
Owners and operators of network devices often don't change vendor default settings, harden them for operations, or perform regular patching.
Internet service providers may not replace equipment on a customer's property once the equipment is no longer supported by the manufacturer or vendor.
Owners and operators often overlook network devices when they investigate, look for intruders and restore general-purpose hosts after cyber intrusions.
What can you do?
CERT offers several suggestions for network infrastructure; see which you can readily implement, and make sure you check them periodically.
For servers and other gear, make sure they are locked away, and if possible, have surveillance cameras, motion sensors, and other means of knowing if your server room -- or wiring closet -- is breached.
If you are breached, take it seriously. Because undetected physical access is nine-tenths of the way to a successful hack.
Related posts:
— Alan Zeichick is principal analyst at Camden Associates, a technology consultancy in Phoenix, Arizona, specializing in enterprise networking, cybersecurity, and software development. Follow him @zeichick.