This is the second part of an article on efforts to develop a legal framework for intelligent cars. If you haven't already read part one, it's a good place to start.
Earlier this month, bill number H.R.3388 passed the House, and now awaits comment from the Senate Committee on Commerce, Science, and Transportation, having already been read twice. Better known as the Self Drive Act, it seeks to define of a set of safety standards for autonomous vehicles (AVs) that can be administered by the Department of Transportation (DOT).
Securing an AV
AVs have some unique devices and equipment, and that means there are some specific areas within a vehicle that are a pinpoint for attack. Hackers look at systems that provide control of autonomous visibility, such as the Lidar (vehicle-top radar), cameras and image recognition systems; V2V units, which communicate between other AVs on the road; and the central computer systems that orchestrate and communicate between them, the passenger, and the outside world. By 2022, it's estimated by CyberSecurity Ventures, which researches and reports on the sector, that 90% of all cars will be attached to the Internet.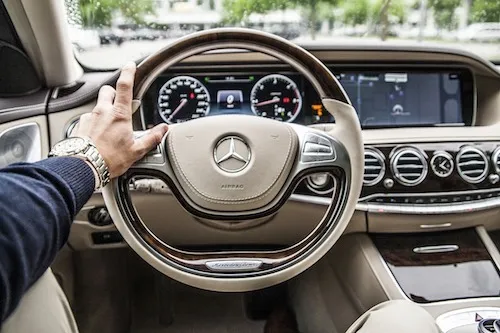 That figure means that most cars with Internet connectivity are potential targets, but AVs are particularly prone because they are much more of a novel, unknown, unstandardized factor. Steven Morgan, founder at CyberSecurity Ventures, reckons that the limited set of security features that are currently "baked" into vehicles are the result of responses to white-hat hackers taking control over mechanical systems such as windshield wipers, brakes and steering among others. In other words, in an evolving AV-led environment, they're relatively tame scenarios and safe measures.
An example is from celebrity hacker Charlie Miller, who famously killed a Jeep Cherokee in 2015, screwing with the windscreen wipers and the car stereo, but crucially, killing the engine while it was on the highway, subsequently documenting his exploits. The car had no additional devices attached to it, it was only a "connected car" and not an AV, and the hack took place remotely on a laptop.
CyberSecurity's Morgan is worried that today's security fixes could be dangerously under-powered. "When the black-hat hacks surface, then we'll get a real sense of the problem -- and for self-driving cars, that is the biggest threat," said Morgan.
"These vehicles are entirely computer controlled and prone to hacks. We expect the first wave of cybercriminal activity will be solo hackers seeking thrills. But then we'll see organized cybergang activity ... self-driving cars will be as dangerous as the drivers behind the wheel, and the hackers under the hood."
What do the hackers want?
The common factor when divining multiple hacker motives is control. Realistically, but unfortunately, there are numerous control likelihoods to meet an end objective. A terrifying one is where a vehicle is hijacked and then used to commit an act of terrorism.
Tenable's DeRaison has words of some comfort here. "An attacker could easily command not a single car but a fleet of hundreds of them. From there, it's easy to imagine all sorts of horrific scenarios. [But] the good news is that most cars are not made of a single 'self-driving unit' but orchestrate a number of sensors." In other words, if a car (or groups of cars) were directed to run into a crowd of people, a failsafe is that the anti-collision unit would kick in, because it runs on a different system.
Some hackers will use ransomware to demand a fee for returning control of an infected car, or as an extorted "toll" for allowing a passenger to continue an important journey. They could of course, theoretically, just steal the car itself. FreeformDynamics' Lock thinks that accessing a car control system over-the-air won't just be the province of hackers seeking money. He says that governments might want to intervene and use vehicular control to limit the travel distance of cars during fuel shortages, or to avoid areas of bad air pollution.
From there, more borderline but plausible motives grow -- what about a car manufacturer themselves "updating" software to ensure the passing of emissions standards tests? Or maybe a local mechanic who is doing it to generate business by getting cars to come in for service when service isn't needed? Or a jealous spouse wanting to track their partner?
Where are they?
Uber has a well-publicized desire to create a fleet of AVs for the emerging "self-ride" market that offers riders more availability or flexibility than is do-able by the current fleet. When challenged about security, Uber espouses a comprehensive world-view that seeks to leave no stone unturned. It accepts that AVs are theoretically susceptible, but says that they're only one such area of vulnerability.
"[We] also consider the surrounding infrastructure, production and development environments, and the physical supply chain," Hudson Thrift, Uber's senior security engineering manager, told Security Now. "When we think about security for self-driving vehicles at Uber, we're looking at everything from the physical supply chain to over-the-air updates, transportation infrastructure and cloud-based development environments."
Uber already puts muscle behind a "bug bounty" program, designed to enlist a world of friendly hackers to win a fee for either spotting a security flaw or resolving one. "The bounty program also informs our development lifecycle to help eradicate entire classes of bugs from being reintroduced into our codebase," said Thrift. Uber is currently figuring out how that can be a part of its AV program, and in the meantime, it runs car threat intelligence and attack remediation in-house.
---
Want to learn more about how LTE-A Pro and Gigabit LTE will impact the 5G market? Join us in San Francisco for LTE Advanced Pro and Gigabit LTE: The Path to 5G event – a free breakfast colocated at Mobile World Congress Americas with a keynote address by Sprint's COO Günther Ottendorfer.
---
Traditional auto manufacturers are starting to run hard in this direction too. General Motors has buddied-up with Hackerone, a firm that coordinates the efforts of friendly hackers to dismantle security threats. Hackerone runs bug bounty programs for big companies and government entities. A young company, it has just celebrated its first anniversary of an engagement with the U.S. Department of Defense with its Hack programs for the Pentagon, the Army and also the Air Force.
"Traditional security solutions ignore or dismiss the human and put all bets on technology solutions," said Lauren Koszarek, a director at Hackerone. "Anytime you connect technology to the Internet, or add on advanced capabilities, you are increasing the attack surface and cars are no different. These new devices require a new breed of security, one that's faster, agile, and can fight human creativity with human creativity."
Related posts:
— Simon Marshall, Technology Journalist, special to Security Now