Phishing attack attempts pinged users' computers more than 246 million times during 2017, a 59% increase over the previous year, according to Kaspersky Lab's "Spam and Phishing in 2017" report released Thursday.
That jump was dramatically higher than the 4.5% year-on-year increase in attempted phishing attacks against users running Kaspersky Lab's anti-phishing systems in 2016. And it marked a significant shift from the 43% decrease in 2015 over the previous year, Nadezhda Demidova, lead web-content analyst at Kaspersky Lab, told Security Now.
"We expected this growth. At some point the attacks became more targeted and the cybercriminals focused on this," Demidova said. "Now, criminals are developing their technologies, like the rest of the digital world, and even fairly simple examples of phishing can be tailored to the victim on the fly, which makes mass attacks more successful."
Spam, meanwhile, declined a slight 1.68 percentage points to an average of 56.6% of email traffic in 2017, according to the February 15 report from Kaspersky Lab. This decline comes as fewer Cryptolockers used in ransomware attacks were detected in spammed emails in 2017, compared with the previous year, the report notes.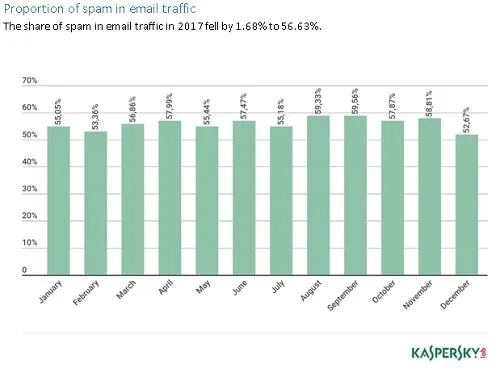 Spam, however, is expected to rise this year.
"In 2018, we expect further development and growth of cryptocurrency-related spam and phishing -- with more cryptocurrency diversity besides Bitcoin, which was widely used in the previous year, and with 'pump and dump' schemes," noted Darya Gudkova, a Kaspersky Lab spam analyst expert, in a statement.
Bitcoin phishing lures
Bitcoin rocketed from $1,000 per coin in January last year to record heights of nearly $20,000 per coin by mid-December. As a result, cybercriminals were furiously at work creating phishing schemes to lure in victims with bogus cloud services to mine for cryptocurrency, rental use of fake specialized data centers to power cryptocurrency mining equipment and software and websites disguised as cryptocurrency exchanges.
But since mid-December, Bitcoin prices have sharply plunged to half its previous value. This may reduce blockchain-related tricks for phishing pages that mimic crypto-wallets, Demidova said.
"The number of system triggers on these pages really depends on the price of the crypto currency. So, everything will depend on the prices of crypto-currencies and the level of excitement around them," she said.
Instigators & targets
The US topped the list of the most popular sources of spam, accounting for 13.2% of the nefarious emails generated in 2017, according to the report. China followed with 11.3% and Vietnam with 9.9%.
As for countries that were targeted the most by malicious spam, Germany took the lead with 16.3%, followed by China, Russia, Japan, UK, Italy, Brazil, Vietnam, France and the UAE.
As for the country with the largest percentage of users affected by phishing attacks, Brazil topped the list with 29%, the report noted.
Unsecure HTTPS
The days of relying on the "S" in HTTPS to indicate a site is encrypted and secure are apparently vanishing.
The report notes that certificates issued to HTTPS websites do not necessarily guarantee the site is secure and that anyone -- or anything -- could be behind it.
Domains created specifically for malicious purposes may likely use free 90-day certificates from Let's Encrypt and Comodo, two certificate authorities, Kaspersky Lab reports.
The increasing amount of sites that use HTTPS, including unsafe sites, should be an issue that CISOs take note of in the report, Demidova said.
Related posts:
— Dawn Kawamoto is an award-winning technology and business journalist, whose work has appeared in CNET's News.com, Dark Reading, TheStreet.com, AOL's DailyFinance, and The Motley Fool.