Poking fun at Florida is a popular journalist pastime, but coverage of a recent cybersecurity-risk report may be neglecting a more reliable and more consequential story in favor of potentially unfair Sunshine State-bashing.
Recently, antivirus firm Webroot sponsored a Ponemon Institute survey of 4,290 US residents about their personal cybersecurity habits and histories, including identity-theft history, password behaviors, use of various cyber-protection tools and the like. The end result was a report, released earlier this month, on US individuals' personal cybersecurity risk and "cyber hygiene."
Dubbed "The Cyber Hygiene Index: Measuring the Riskiest States," the report covers state-by-state results (including the District of Columbia) in its single-page introduction. There, the report identifies the state with the highest cyber risk as Florida, which bore an average cyber-hygiene index (CHI) score of -6.29 (on a scale of -39 to +37).
Meanwhile, the state boasting the best CHI, at +4.29, was New Hampshire.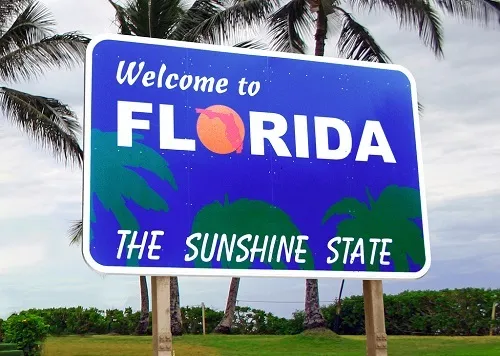 Moreover, Webroot made these state-by-state rankings -- particularly the sexy "
Florida
sucks
at
cybersecurity
" lede -- the centerpiece of both a
press release
and a
blog post
about the report.
After the 26-page report's introductory overview, however, there is no more mention of states except for a full state-by-state CHI ranking on one page in the appendix. The rest of the report is instead focused on other demographics -- while comparing overall results to how the "Bottom 100" respondents responded.
So why the focus on state rankings?
Confidence varianceFlorida had 142 respondents; only three states -- California, New York, and Texas -- had more survey respondents. Florida, however, is the third-most populous state in the country, with more than 21 million people. Florida's sample size, therefore, represents only about 0.067% of its total population.
That fact in and of itself is fine, statistical significance-wise; sample sizes are called "sample" for a reason. Compare Florida, however, to New Hampshire -- since that's what Webroot and numerous tech-news outlets did. New Hampshire had about half as many respondents as Florida, but has a population of a little over 1.3 million people. This gives New Hampshire a sample size of close to 0.54% of its total population -- a proportion that is nearly eight times as large as Florida's.
Similarly disparate sample-to-population ratio call the statistical confidence levels of such state-by-state comparisons into question. Sample sizes ranged fairly narrowly, from 40 respondents -- in Wyoming -- up to 195 respondents -- in California. State populations, however, vary tremendously; whereas about 40 million people live in California, for instance, Wyoming has fewer than 600,000 people.
Larry Ponemon, Founder and Chairman of the Ponemon Institute, conceded the general point -- but maintained that CHI's comparisons were useful because its datasets are sufficiently accurate. Ponemon explained that, in designing the study, the Institute consciously elected to not weight the averages for population disproportion because that would have only exacerbated these variances.
"It's not going to be perfect," Ponemon told Security Now, "but our assumption is that, if we exercise the same method for fielding the survey, capturing the data, [and] rejecting [unreliable data] -- and all the criteria are the same -- [then] we're teasing out a lot of factors that would maybe skew the results to larger states."
Staying on cyber messageEither way, according to Webroot consumer marketing specialist Emily Kowalsky, internal campaign preplanning had "handcuffed" Webroot's marketing and PR efforts to a "riskiest states" message -- even before the study had been conducted.
"That's how we got our funding," Kowalsky told Security Now. "Our budget for the actual study was to do a study on the riskiest states -- and that's just what it was."
Now that they actually have their data, however, Kowalsky said that Webroot is planning a second CHI campaign, in October -- this time based on more compelling, more confident, non-jurisdictional demographic findings.
"[T]hings like income and gender make a difference," noted Ponemon. "All of these different factors could [determine] who is most at risk or who is least at risk [based on] demographics."
Indeed, based upon a cursory comparison of the "Bottom 100" individuals to overall results, along with respective conversations with Ponemon and Kowalsky, the most at-risk demographic statuses for CHI were:
Single
Childless
Caucasian
Female,
Holding an undergraduate degree (but no graduate degree), and
Having some degree of disposable income
As for plans for 2019, Ponemon indicated that, instead of states, next year's CHI study may instead compare major metropolitan areas and rural areas.
"I think that actually might produce a better [dispersion] indicator," said Ponemon.
Related posts:
—Joe Stanganelli, principal of Beacon Hill Law, is a Boston-based attorney, corporate-communications and data-privacy consultant, writer, and speaker. Follow him on Twitter at @JoeStanganelli.