Internet of Things devices are being hit with increasingly sophisticated botnet attacks that aim to exploit vulnerabilities and that target the devices sometimes within minutes of coming online, according to researchers with NetScout's threat intelligence group.
The findings by NetScout's ASERT team in its "Fast and Furious IoT Botnets: Regifting Exploits" report add to the growing list of reports in the cybersecurity industry outlining the expanding attack surface and growing threats as the number of intelligent connected devices for both businesses and consumers continues to rapidly grow into the tens of billions. Most recently, analysts with Trend Micro found significant vulnerabilities in the Message Queuing Telemetry Transport (MQTT) protocol and Constrained Application Protocol (CoAP) that enable the machine-to-machine (M2M) communication that is fundamental to the IoT. (See M2M Protocols Expose IoT Data, Trend Micro Finds.)
The NetScout researchers found that IoT botnet authors are increasingly adding the exploitation of vulnerabilities in IoT devices to complement or even replace the use of brute-force to unlock factory-default passwords that has been common in recent years.
"As IoT device security is still in its infancy, it's not uncommon to find basic vulnerabilities like command injection," the researchers wrote in the vote. "In November 2018, our honeypot observed several older IoT vulnerabilities being used as a means to deliver malware."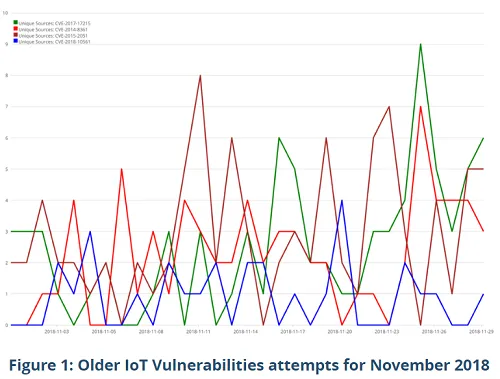 IoT device security is still relatively new and such basic vulnerabilities like command injection are not unusual, they said. In addition, IoT devices tend to be vulnerable for longer periods of time than traditional computing systems because patching the devices tend to be difficult and slow. They're also easy targets. There are so many coming online and finding vulnerabilities is relatively easy, the researchers said. It takes fewer than five minutes from the time an IoT devices comes online to when the first attempts at brute forcing begins, and within 24 hours, the same devices begin seeing exploitation attempts against known vulnerabilities.
"What we're seeing today are IoT devices being targeted en masse for their capabilities as a large group -- denial-of-service attacks and cryptomining," Matt Bing, security research analyst at NetScout, told Security Now in an email. "The IoT devices being targeted are basically underpowered computers, like home routers and web cameras, with vulnerabilities in their administrative interfaces. It's these devices that are currently at the most risk, but businesses and home users can protect themselves by practicing basic security hygiene."
IoT security concerns span several areas beyond simply the number of devices that are coming online. This includes a wide-array of devices, from small sensors to consumer appliances to large industrial machines, and because of their connectivity, a successful attack can give threat actors access to the networks they're on and all the other devices and systems that are connected to them. A recent analysis by Nokia found that IoT botnets make up about 78% of malware found on service provider networks -- double the rate over 2016 -- and comprise 16% of all infected devices on those networks. (See IoT Botnets Are Increasing Source of Malware on SP Networks.)
The Mirai botnet that was released in October 2016 showed the threat facing the IoT, and the Mirai source code has been linked to other bots, such as Hajime and Satori. (See Satori Botnet Resurfaces & Targets Android Devices.)
Another worry is that many of the companies building IoT devices often are faced with the decision of whether to use their set budgets for features in the device or for security, and at times decide to bolt on security afterward rather than making it part of the development process.
"IoT vendors are making an effort to address the problem, but they face some unique challenges as they mature their security processes," Bing said. "Primarily device manufacturers, IoT vendors might not have the necessary sophisticated software development practices that prioritizes security early in the design."
The NetScout researchers report that they are seeing a "constant stream" of both new and older IoT-related vulnerabilities. Among the key reasons for the attempts to exploit older vulnerabilities is that "IoT devices can sit on a shelf for weeks on end before being purchased. If a security update is released for the device, it won't be applied to these devices until the software is updated," so the device is vulnerable immediately after it's brought online, they wrote.
Secondly, the devices receive patches at an "agonizingly slow rate."
"In most cases these botnets are immediately conscripted into a DDoS army," they wrote. "It doesn't take a significant amount of effort to create a large IoT botnet and create havoc, as we saw with the DDoS attacks conducted by Mirai in 2016."
NetScout analysts expect a continued uptick in the use of IoT vulnerabilities as the calendar turns to 2019, given how easy it is for bad actors to update botnet source code like Mirai and the ability to create larger botnets quickly and with minimal resources.
"The simplest fix with the biggest impact for both businesses and home users is to ensure IoT devices are behind a firewall or home router," Bing noted. "Making these devices inaccessible from the public internet protects them from the constant background noise of attacks."
Related posts:
— Jeffrey Burt is a long-time tech journalist whose work has appeared in such publications as eWEEK, The Next Platform and Channelnomics.