Botnets are increasingly making up more and more of the malware traffic found on service provider networks, with cybercriminals using these Internet of Things bots for a range of malicious schemes, especially cryptomining, according to a new analysis from Nokia.
Overall, botnets made up about 78% of the malware found on service provider networks in the past years, which is double the rate seen since 2016, when SPs first began observing these bots across their networks.
Additionally, IoT botnets now comprise 16% of all infected devices on these networks, a 3.5% increase from a year ago, according to Nokia. (See IoT Security Problems Can Cost Enterprises Millions.)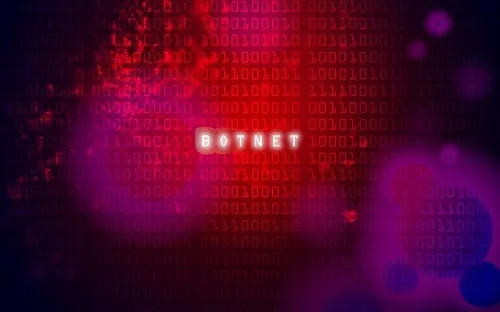 This look at how botnets and malware are changing communication service provider networks are contained in Nokia's Threat Intelligence Report for 2019, which the company released December 4. It's based on an analysis of network traffic, including 150 million connected devices, using the company's NetGuard Endpoint Security tool.
The analysis found that these botnets are used for a wide-range of criminal activity, including that ability to deliver cryptomining malware, with cybercriminals targeting high-end servers, smartphones and even web browsers. The report also noted that Android phones are the most targeted end device, accounting for about 47% of all infections.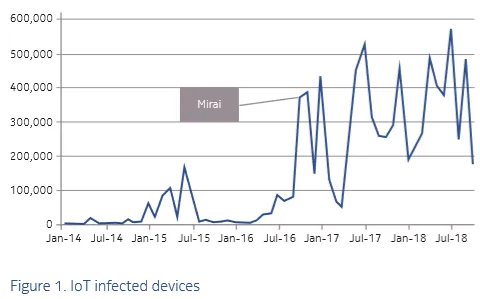 Windows PCs accounted for 35% of all malware infections, with IoT devices targeted about 16% of the time. The Apple iPhone remains relatively safe, accounting for less than 1% of all malware infections on these networks.
However, it's botnets that are increasingly seen as the growing threat, especially as more and more devices and sensors are hooked into the Internet and cybercriminals uses these bots to scan for vulnerable endpoints.
"The bots spend most of their time trying to spread. This involves scanning for vulnerable devices, attempting to exploit them and loading the malware onto the infected devices," Kevin McNamee, the director of the Nokia Threat Intelligence Lab, wrote in an email to Security Now.
"This accounts for the 78% of the regular daily malware activity we see," McNamee added. "The scanning activity accounts for most of it. This is a relatively recent phenomenon (since late 2016) and the increase has not been at the expense of other types of malware. It is mostly new activity. That said, residential and smartphone infections have dropped somewhat over the past few years, so the cybercriminal focus on IoT could be taking focus away from the more traditional Windows/PC and smartphone targets."
All of this malicious activity can be traced back to the original Mirai botnet, which was first released in October 2016. Since then, the source code that created Mirai has given rise to other bots, including Hajime and Satori. (See Satori Botnet Resurfaces & Targets Android Devices.)
Additionally, other, much more sophisticated botnets have been detected in recent years, notably VPNFilter, which appears to have backing from Russia. (See VPNFilter Is 'Swiss Army Knife' of Malware.)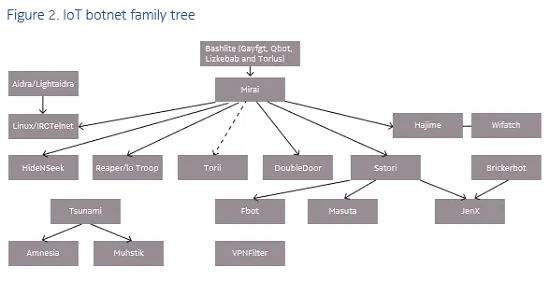 While Mirai was primarily used for creating distributed denial of service (DDoS) attacks, other botnets are designed for other schemes, notably cryptomining, which has been on the rise over the last year. (See Cryptomining Malware Continues to Surge as Cybercriminals Cash In.)
"The original Mirai was used exclusively for DDoS," McNamee noted. "Since then, these bots have evolved to monetize their DDoS activity by providing DDoS as a service. They have also been used for cryptocoin mining, information theft and credential stuffing. The suite of exploits used to compromise vulnerable devices has also greatly expanded."
In his email, McNamee noted that everyone within this IoT ecosystem is responsible to security, which can help cut down on the number of botnets infecting these different networks. For instance, device manufacturers need to build devices that can be managed and patched.
IoT operators need to take responsible for ensuring that connected devices are securely managed and that they operate within a system that uses strong authentication, data integrity and privacy. Network operators are responsible making sure that rogue devices do not threaten their network infrastructure.
Finally, the consumer at the other ends to need to make sure that their IoT devices, whether it's a smart TV, thermostat, speaker, home router or another endpoint, is from a reputable vendor that supplies some level of security.
However, McNamee noted that upcoming 5G networks will increase the amount of connected devices that people use every day, which make the potential for more frequent and much more intense attacks, such as DDoS, that much more likely.
"5G will also increase the bandwidth available to devices, again this will increase their effectiveness as elements in a DDoS attack," McNamee wrote. "Direct device to device communication will open up a whole new attack surface. Finally, if the 5G networks switch to using IPv6 (instead of IPv4 + NAT), it will increase the visibility of these devices from the public internet and make them more vulnerable to attack. 5G slicing may alleviate this somewhat."
Related posts:
— Scott Ferguson is the managing editor of Light Reading and the editor of Security Now. Follow him on Twitter @sferguson_LR.