A rare IBM spinout business is offering software that leverages artificial intelligence techniques to enable financial services firms, healthcare institutions and other organizations to more easily detect fraud, ferret out insider threats and hunt bad actors.
Senzing's eponymous software is designed to use what company officials call AI-based "entity-centric learning" and other techniques to access hundreds of thousands of corporate records and quickly identify who is accessing a company's data, what organization they're doing business with and who they are hiring to protect themselves against fraud, ensure they are in compliance with government regulations and reduce the chances of being compromised by threat actors on the inside.
The company was founded by CEO and Chief Scientist Jeff Jonas, who has about 25 years of experience helping companies hunt down threats and protect themselves against fraud.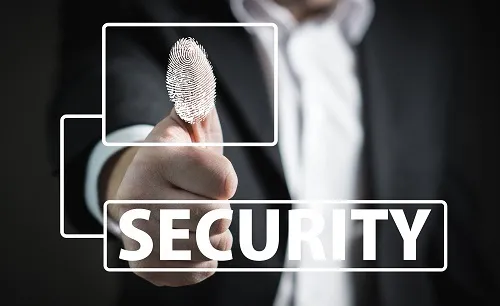 Before founding Senzing, Jonas spent more than a decade with Big Blue, as an IBM Fellow and chief scientist of context computing. It was during that time that he started a "skunkwork project" called G2, which is the basis of the Senzing software. The Senzing team spun out of IBM in 2016 with the G2 technology.
IBM used the technology for its InfoSphere Identity Insight software and also is a customer of Senzing, Jonas told Security Now.
The fraud detection and prevention market has ballooned to more than $14.3 billion, according to a MarketsandMarkets report. The Association of Certified Fraud Examiners has said that US businesses will lose an average of 5% of their gross revenues to fraud every year.
Insider threats also are taking a toll on businesses. A survey done by the Ponemon Institute and sponsored by ObserveIT earlier this year found that enterprises spend an average of $8.76 million every year to address damage done by insider security threats. (See Insider Threats Cost Enterprises More Than $8M Every Year – Report.)
A key to fighting fraud and insider threats is to be able to accurately determine the identities of people within an organization and partners the organization is doing business with, and that is done through entity resolution. In the hundreds to thousands of records a company has, the same person or organization can be described in multiple ways: Names, addresses, dates of birth, and other data can be rendered differently from record to record, from a person's middle initial used in one but not another to one address using "Street" and another using "St."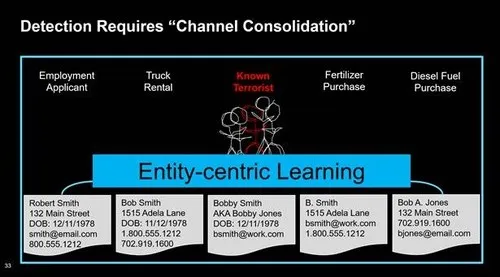 At the same time, bad actors may use slightly different names, addresses, age and other information to keep from being detected by companies or government agencies. A business needs to be able to correctly identify these people and organizations and figuring out which ones in its documents are the same even if they're described differently.
For example, the Treasury Department's Office of Foreign Assets Control (OFAC) keeps a watchlist of about 6,000 people and organizations, including terrorists, money launderers and other criminals. A company needs to ensure that they aren't doing business with any of these people or organizations, but smart criminals will try to hide their identities.
A person who wants to create a truck bomb using fertilizer and fuel isn't going to use "the exact same identify to buy diesel fuel, fertilizer and rent a truck," Jonas said. "If you know you're on that OFAC list, you wouldn't go open a bank account with the same passport name and address that's on the OFAC list. Only the idiots would do that. And they run out of gas on the way to the operation. So, if you can't figure out these people are the same, you can't catch the clever bad guys."
---
Boost your understanding of new cyber security approaches at Light Reading's Automating Seamless Security in Carrier & Enterprise Networks event on October 17 in Chicago! Service providers and enterprises receive FREE passes. All others can save 20% off passes using the code LR20 today!
---
The bad guys use what Jonas called channel separation -- using different information for such interactions -- and Senzing's entity-centric learning method consolidates those channels to find the criminals. It uses a self-learning and self-correcting algorithm and some machine learning techniques to perform entity resolution in real-time. The software also is designed to make such capabilities affordable. It's available for free to organizations with fewer than 10,000 records, with production subscription pricing levels set for those with more records.
Senzing's software can be used as an API-like plug-and-play module that customers can embed in their existing solutions, or is available as a desktop application, the CEO said.
There are about 50 other companies that do similar entity resolution work, but their products are expensing and require deep expertise, he said.
"It's really been for the elite," Jonas said. "Literally, if you don't have a million-dollar starting opening hand as an organization, you can't get world-class entity resolution. Now we're taking this very advanced technology and just letting people download it. Any company of any size can evaluate the identities in their data. We're democratizing it. We've made it so easy to use, you don't need an expert, and because of that, we've been able to take an order of magnitude out of price and let people just download it, try it and get started for free."
While detecting fraud and insider threats are among the key use cases for the software, it can be used for a variety of other tasks, including continuous background checks, law enforcement investigations, supply chain risks for manufacturers and compliance with the European Union's General Data Protection Regulation.
Related posts:
— Jeffrey Burt is a long-time tech journalist whose work has appeared in such publications as eWEEK, The Next Platform and Channelnomics.