IBM wants to keep its security investments rolling along.
On Monday, Big Blue unveiled its mobile Cybersecurity Operations Center, a 23-ton, Mercedes-Benz Arocs tractor trailer that brings the company's security know-how curbside.
The tractor trailer is the mobile version of IBM's physical X-Force Command Cyber Tactical Operations Center (C-TOC), which opened several years ago. It's modeled on the tactical operations centers that are used by the military and first-responders during emergencies.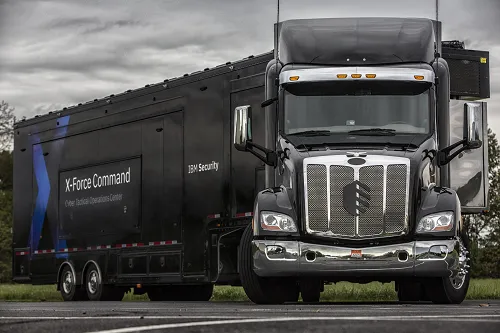 The mobile version provides a gesture-controlled cybersecurity "watch floor," data center and conference facilities that can support up to 24 staff members. In addition, IBM provided two, vehicle-mounted satellite dishes that offer 1,000Mbit/s networking, as well as four dedicated cellular uplinks and a private satellite channel.
Those working within the mobile center will have access to 20 workstations, five HD cameras, as well as a mobile data center built on top of a VMware cluster and a 100TB solid-state disk array. There's also 20,000 feet of wiring and a 47-kilowatt power supply.
Finally, to help visualize all this activity, there's a 227-inch-by-43-inch front video wall, along with a 75-inch side display and an 86-inch rear display that are gesture controlled and offer 4K video capabilities.
IBM plans to tour the US with the truck, before bringing it Europe.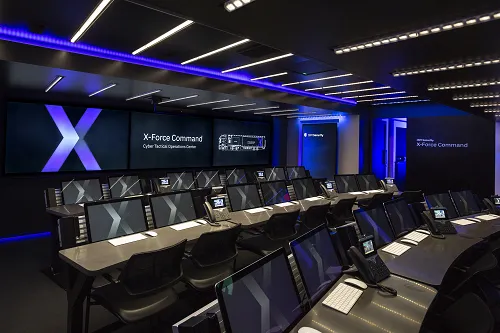 In 2016, the company began a $200 million investment in security, which included the original Cyber Range facility located in Cambridge, Mass. About 2,000 people have toured the physical facility and have taken classes. It proved popular enough that IBM decided to create the mobile version, which continues the company's investments in cybersecurity training and services.
As part of its tour, IBM plans to offer customers and clients response and training preparedness, onsite cybersecurity support, as well as education and awareness of security issues.
"Having a mobile facility that allows us to bring realistic cyberattack preparation and rehearsal to a larger, global audience will be a game changer in our mission to improve incident response efforts for organizations around the world," Caleb Barlow, vice president of Threat Intelligence at IBM Security, noted in an October 15 statement.
Related posts:
— Scott Ferguson is the managing editor of Light Reading and the editor of Security Now. Follow him on Twitter @sferguson_LR.