It started out as a way to make the Internet look the way you wished it to. But it ended up spying on what you were doing on it, and sending the information to a marketing company.
Welcome to 2018.
The Stylish Chrome and Firefox browser extension gave users a way to change how they viewed sites. They had user-made skins that would give bright websites a dark background, could undo user-disliked UI changes, and or even add graphics to please the user's sensibilities. It even had a CSS editor that could remove unwanted parts of a page.
A user could change things around to the way they wanted things to look.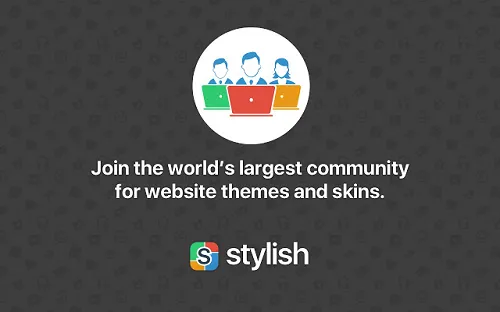 But since January 2017, the websites visited by the 2 million users of the extension have been recorded. The original owner and creator of Stylish sold it in August 2016 to someone that resold it to SimilarWeb. The intent of SimilarWeb has not exactly been a secret. But the exact way the company was going to do things has not been clear.
However, security researcher Robert Heaton stumbled upon what the extension was actually doing, and started to yell rather loudly. He found that all of the URLs of accessed pages were being sent to the company, including the full results of Google searches.
The SimilarWeb family's promotional literature lists "Market Solutions To See All Your Competitors' Traffic" amongst its interests. I'm starting to feel like I might have become the product. I understand that it probably isn't SimilarWeb company policy to threaten to show their users' browsing history to their mothers and rabbis unless they hand over a big pile of cash. But it wasn't Equifax company policy to lose all those Social Security Numbers either.
This led to Mozilla taking active blocking against the extension.
Mozilla software engineer Andreas Wagner wrote in the bug report : "We decided to block [Stylish] because of violation of data practices outlined in the review policy." Another user noted that "it will be disabled, not removed. Users will get a warning though with a request to (optionally) restart the browser."
---
Boost your understanding of new cybersecurity approaches at Light Reading's Automating Seamless Security event on October 17 in Chicago! Service providers and enterprise receive FREE passes. All others can save 20% off passes using the code LR20 today!
---
Also, the Stylish Firefox add-on page has been removed.
The Stylish Chrome Web Store page currently gives a "404" error, so they have taken action as well.
There is an open source alternative named Stylus that can do most of what Stylish could do. "It is a fork of Stylish that is based on the source code of version 1.5.2, which was the most up-to-date version before the original developer stopped working on the project," according to Stylus.
It's available for Chrome, Firefox and Opera browsers.
Related posts:
— Larry Loeb has written for many of the last century's major "dead tree" computer magazines, having been, among other things, a consulting editor for BYTE magazine and senior editor for the launch of WebWeek.