ORLANDO -- Gartner Symposium/ITXpo -- Enterprise security is not immune to trends and the whims of fashion. Some trends are driven by external forces, like the ever-evolving threats from clever hackers, while others are driven from within the organization. At an opening-day session at Gartner Symposium, research director Brian Reed led a discussion that looked at both sorts of trends and tried to predict which will be critical for enterprise executives in 2018.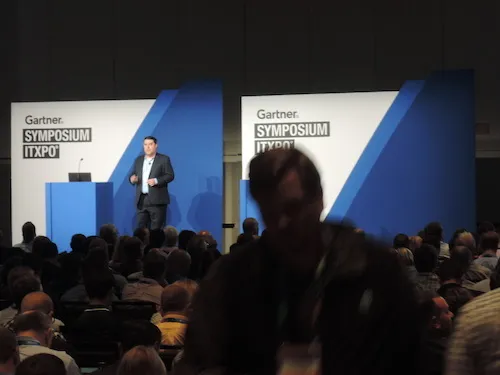 Reed began with a "meta-trend": Cybersecurity is no longer just about information. Users and devices are critical subjects for cybersecurity consideration, too. It seems like a simple, and even obvious, transition, but when the focus of cybersecurity broadens to include humans and physical devices (rather than simply bits and bytes) it means profound changes in security processes and the technologies used to implement them.
Next, he identified five major factors having an impact on all the trends to follow:
Cybersecurity skills continue to change and evolve.
Cloud security is becoming a top priority for many organizations.
There is a continuing shift away from protection and prevention only.
Security for applications and data centers is being led by development groups.
Digital ecosystems drive next-generation security.
All of these factors seem generally positive, but the trends flowing from them will be terrifying for many traditional IT security leaders. Why? Because a number of the trends have "less certainty" as their core quality. Reed said that the first trend to be aware of is that you simply can't fix everything. That's good, actually given that:
You can't secure everything -- networks and applications are simply too big and complex for every single asset to be made secure with any certainty.
You can't know how secure everything is -- see the last point for the reason. Really, the best you can do is know the status of your key, most valuable, assets.
You really can't know how secure your partners are -- if you thought that understanding your own security status was complicated, trying to get a realistic handle on all your partners is simply impossible.
Given all this, what's a rational security professional to do? The first thing, Reed said, is to focus on business outcomes. The focus on business outcomes has been a theme throughout the conference, but from Reed's perspective it sets the priorities and strategies for any successful security plan in the digital business age. As a result of this focus, security pros should become facilitators to help business units understand and take responsibility for the security of their data and processes.
Next, he said, professionals should automate as many security processes as possible, outsource whatever they can of the remainder, and be left with in-house manual security operations for as little of the security infrastructure as can be arranged. The goal is to have high-value, expensive in-house talent doing only those things that can't be done another way. Those things should, by rights, be the most business-critical parts of security.
---
You're invited to attend Light Reading's 11th annual Future of Cable Business Services event. Join us in New York on November 30 for the premier independent conference focusing on the cable industry's continuing efforts in the commercial services market – all cable operators and other communications service providers get in free.
---
There were, of course, many other things said in the session, including a long segment on adaptive security infrastructures. Security Now will have more on that, and on other security points from Gartner Symposium/ITxpo in coming days. Until then, what do you think about these trends? Have you seen them at work in your own organization? We'll look forward to seeing your thoughts in the comments section.
Related posts:
— Curtis Franklin is the editor of SecurityNow.com. Follow him on Twitter @kg4gwa.