Two weeks after Facebook announced a vulnerability in its "View As" feature that exposed users' security tokens, the social media company issued an update, sharing that the data breach impacted 30 million accounts -- not the 50 million users Facebook originally thought.
On Oct. 12, Guy Rosen, vice president of Product Management at Facebook, penned a new blog that offered some additional details about the platform vulnerability that allowed attackers to steal users' access tokens. It now appears the vulnerability was actually the result of three different software bugs within the View As feature. The attackers noticed this flaw sometime between July 2017 and September of this year, wrote Rosen.
Specifically, the vulnerability allowed the attackers to steal the access tokens and take over those accounts and profiles. Access tokens are the digital keys that enable users to keep open their profiles without having to re-login into the site.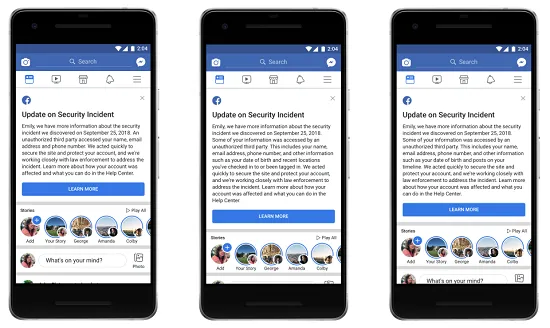 Facebook's security team first noticed something wrong on Sept. 14, during an unusual spike in activity. On Sept. 25, the company knew it was under attack but it took two more days to identify and patch the vulnerability, resend access tokens and disable the View As feature.
At first, the attackers -- who are still unknown -- gained control of about 400,000 different Facebook accounts. From there, they created an automated technique that allowed them to steal the access tokens of friends of those accounts, as well as friends of friends and so on.
"In the process, however, this technique automatically loaded those accounts' Facebook profiles, mirroring what these 400,000 people would have seen when looking at their own profiles," Rosen wrote. "That includes posts on their timelines, their lists of friends, Groups they are members of and the names of recent Messenger conversations."
From those initial 400,000 accounts, the attack spread to 30 million Facebook users. The company now believes of that total number, 15 million users had two pieces of information stolen -- their name and contact details within their profile.
Another 14 million people not only had their name and contact information compromised, but attackers also gained access to "username, gender, locale/language, relationship status, religion, hometown, self-reported current city, birthdate, device types used to access Facebook, education, work, the last 10 places they checked into or were tagged in, website, people or Pages they follow, and the 15 most recent searches," according to Rosen.
Reportedly, the attackers left alone the remaining 1 million users; none of their information was compromised.
Anyone who thinks their profile was compromised can check with Facebook's Help Center for more information. In addition, the company plans to send a personal message to all 30 million users affected to explain what information was taken and how they can protect themselves from spam and other possible malicious attacks.
Related posts:
— Scott Ferguson is the managing editor of Light Reading and the editor of Security Now. Follow him on Twitter @sferguson_LR.