Equinix is making its first foray into offering security-as-a-service this week with the SmartKey offering it announced Monday, promising its enterprise customers to make it easier to encrypt and protect their data as it traverses multiple cloud environments.
The move represents the rising strategic importance to Equinix of its enterprise customer base -- the fastest growing segment of customers, says Lance Weaver, vice president of Emerging Services at Equinix Inc. (Nasdaq: EQIX). But it also represents the ongoing concerns enterprises have about security in a multicloud environment as more data is being shared with more cloud providers.
Add to that the looming GDPR compliance requirements coming out of the European Union, and encryption moves more to the center stage, Weaver says.
"Businesses want to apply a consistent posture against all the services they are using in a multicloud environment," he comments in an interview. "Encryption is considered a best practice for doing that."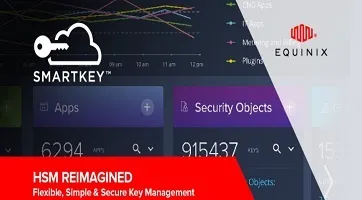 What SmartKey does is make it operationally easier to implement encryption. Equinix is already providing a Cloud Exchange and serving as the connection point to multiple clouds for its enterprise customers, with nodes deployed globally, close to the most popular public clouds.
"We are not performing the actual encryption," Weaver explains. "Every time encryption happens, there is a need for an encryption key with the ability to unlock the data. The question then becomes, how do I store that key? It needs to be proximate and it needs to be able to apply across the multicloud in a cloud-neutral fashion."
SmartKey provides that secure key management function that is "operationally efficient, simple and easy to use" but also highly secure, he adds.
Equinix teamed with Fortanix Runtime Encryption and Intel Corp. (Nasdaq: INTC) on the product. Fortanix's HSM [hardware security module] provides the protection of data in transit, in storage and in memory, Weaver says, and Equinix now brings this to the SaaS model. Intel's SGX provides the critical protection of the encryption keys.
"Intel's SGX has been in development for a number of years and the purpose is to provide trust in untrusted environment," Weaver says. The technology prevents intrusion into its "enclave" by malicious software or root manipulation of the systems.
---
The fundamentals of network security are being redefined -- don't get left in the dark by a DDoS attack! Join us in Austin from May 14-16 at the fifth annual Big Communications Event. There's still time to register and communications service providers get in free!
---
"Our product is the first security key service generally available leveraging that technology, in software," he adds. "That provides the ability for the service operation, in this case a cloud service that we are offering, where we can make it simple and easy to use operationally."
Equinix is already experienced at securing its data centers but is now likely to be looking at future security services, as the need for those evolves, Weaver says.
— Carol Wilson, Editor-at-Large, Light Reading