DNS rebinding, one of the oldest forms of online attacks, have been undergoing a renaissance lately.
At the most fundamental level, the attack confuses a device connected to the Internet as to where it should look for information. It also can make the device think the request for information is coming from a trusted internal network, rather than an external one.
The Armis Security research team reports that it has found that enterprises are very exposed to DNS rebinding attacks. The researchers write that that this is happening because the majority of manufacturers who make commonly used Internet of Things (IoT) devices within enterprise environments ship devices that are vulnerable to it. (See Google, Roku, Sonus Rush Out Patches for DNS Vulnerability.)
Using data from their Device Knowledgebase, which includes over 5 million device behavior profiles, researchers identified the devices, manufacturers and estimated number of vulnerable devices worldwide in the enterprise -- nearly half a billion devices by their count.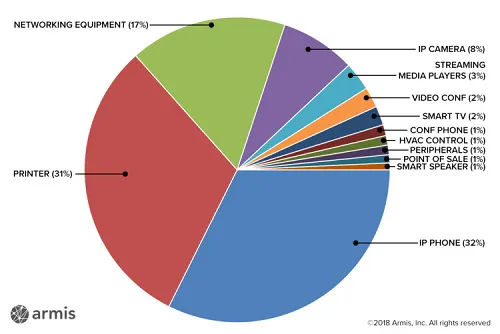 In their research, the team took a wider look at the kinds of devices that can be fooled by this sort of attack -- not just the usual routers. What they found includes:
IP phones, specifically IP-based desk phones
Printers
Network equipment, including access point, routers or switches
IP cameras: mainly security cameras
Steaming media players, including Chromecast, FireTV, Apple TV
Video conferencing, including IP-based conference room phones and speakers
Smart TVs
HVAC controls, including smart thermostats
Peripherals
Point of Sale machines
Smart speakers, including Amazon Echo, Google Home and Sonos
This is a really wide net that researchers cast to come up with their estimates.
But there are some devices in there that do not usually get security attention.
Printers, for example. About a third of the devices in their total are printers without security agents onboard. This is about 66% of all printers. They are usually network connected, and ubiquitous enough in the enterprise to not call attention to themselves. Yet, they can be perfectly situated in a network to be stepping stones for further attacks. To make matters worse, they are usually deployed with default settings enabled which makes them low-hanging fruit for an attacker.
IP phones also fall into this category. They are ubiquitous devices that are not well protected by default. Cisco had to patch its VoIP line of phones to stop a vulnerability that could allow a remote attacker to perform a command injection and execute commands with the privileges of the web server.
Unsurprisingly, Armis thinks that security products and tools that they sell would be just the ticket to combat this problem.
But there are other methods that can be used. One would be to find those devices that belong to different network segments so they can't be discovered or compromised using a DNS rebinding attack.
Also, disabling services that are not needed -- such as Universal Plug and Play (UPnP) -- helps a lot. Of course, old standbys like changing the password to each device's HTTPS server and updating device software whenever possible are always beneficial.
Armis researchers make a good point when they show that vulnerable IoT devices are all over the organization. Defending them is a practical necessity.
Related posts:
— Larry Loeb has written for many of the last century's major "dead tree" computer magazines, having been, among other things, a consulting editor for BYTE magazine and senior editor for the launch of WebWeek.