SAN FRANCISCO – Cybercrime is expected to soar to a $6 trillion annual enterprise in the next three years -- that's the equivalent of about 10% of the world's economy -- the secretary of the US Department of Homeland Security, Kirstjen Nielsen, told this week's RSA Conference during an opening keynote.
As cybercrime increases over the next three years, private business and the federal government need to step up their game and learn to cooperate more, especially as attacks as WannaCry and NotPetya multiply. (See Cybercrime Is North Korea's Biggest Threat.)
"Security used to be a problem reserved for the IT department," Nielsen, who cited the $6 trillion figure from a study conducted by Cybersecurity Ventures, said during her April 17 address. "Now, it is a real-life daily concern. Every facet of our society is now being targeted at every level. Simply put, cybersecurity is now everyone's problem. It's affecting our lives, our livelihoods, and our way of life."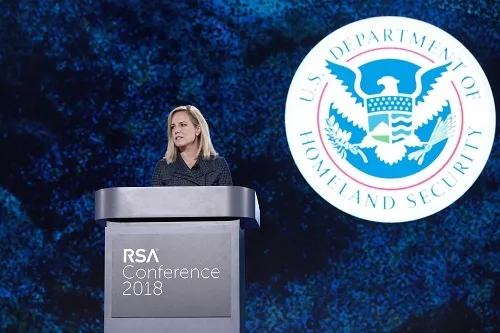 What's complicating matters, Nielsen said, is that different attackers want different things. Some look to steal money and personal data for financial gain. Other are involved in long-term espionage schemes. Another group might want to target critical infrastructure to cause havoc. (See FBI & DHS Accuse Russia of Hacking Critical Infrastructure.)
"Our response to the threat environment is complicated by the fact that different actors have different objectives," Nielsen added.
In the coming months, Nielsen said that DHS plans to release its own cybersecurity strategy that will look to increase cooporation between governments and private industry. In a broad outline, she said that the plan would include:
Risk identification
Vulnerability reduction
Threat reduction
Strengthening the security of broader cyber ecosystem
While not offering much in the way of specifics during her talk, Nielsen outlined five important, but fairly broad, strategies about this plan that DHS plans to emphasize when the rollout is complete.
The first is systemic risk, where government and business can no longer look at single points of failure. Instead a cyberattack against one industry should be viewed as a ripple effect that could spread across others.
The second is collective security, where the weakest link has consequences for all. Essentially, this boils down to: "Your risk is now my risk. What that means is you can no longer protect yourself in a vacuum," she said.
The third is the federal role that government needs to play and how private industry must play a bigger role. At the same time, consumers needs to demand better security within the products that they buy.
The fourth point was Advanced Persistent Threats (APTs), which looks at the nation-state attacks that target the US. The requires resilience in systems including electrical grids, water suppliers and the voting system that came under attack in 2016. (See APTs Are Rising in the East, Kaspersky Finds.)
The plan also involves deterrence, and business and government agencies working together to resistant cyberattacks before they spread.
---
The fundamentals of network security are being redefined -- don't get left in the dark by a DDoS attack! Join us in Austin from May 14-16 at the fifth-annual Big Communications Event. There's still time to register and communications service providers get in free!
---
Nielsen closed with a call to action:

"We need to be more agile, more holistic. We can't miss the forest for the individual trees. We have to look at the whole picture. The threat is evolving constantly. Innovation is evolving constantly. We need to be forward on our toes, not leaning back.
Related posts:
Editor's note: This article was updated to clarify the source of the $6 trillion figure that Nielsen cited during her talk.
— Scott Ferguson, is the managing editor of Light Reading and the editor of Security Now. Follow him on Twitter @sferguson_LR