IT security tends to be all about defense: We leave the offensive tactics to the criminals. But according to the results of the latest Security Now poll, it might be time to rethink that strategy.
According to the 160 members of the community who responded to the flash poll, taking the battle to the hackers is something for IT security professionals to consider, even if they're only taking the step in conjunction with the efforts of law enforcement. No matter how it's done, though, it would be a major policy change for most organizations.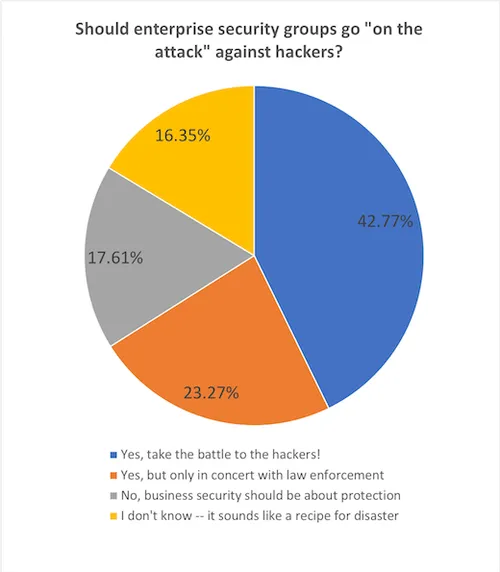 Roughly two thirds of those responding felt that "fighting fire with fire" in some way is justified, with almost twice as many favoring a blanket "fight-back" stance than those who prefer the idea of working with law enforcement.
In comments to the poll, community member (and Security Now blogger) Joe Stanganelli pointed out that there could be legal consequences to taking hacker-like steps without the explicit sanction of law enforcement. His cautionary note was echoed by community member Michelle, who brought up the ominous threat of unintended consequences if organizations suddenly felt free to hack back against criminals and criminal organizations.
Of course, taking the battle to the hackers can take many forms. Security Now community member mhhfive pointed out that he favors bug bounty and similar programs over more aggressive hack-back tactics for cybersecurity organizations. He also brought up the possibility of "doxxing" -- publicly giving out identifying information of hackers and hacking organizations so that the community at large can be aware of who the criminals are and take appropriate social action. Stanganelli once again weighed in with a voice of caution, citing costs to both society and innocent individuals from doxxing gone wrong.
There's no doubt that frustration is mounting regarding the asymmetrical nature of the current cybersecurity environment; hacking is a low-risk activity for which the payoff can be huge. As with so many other frustrating law-enforcement situations, though, it's worth thinking about the total cost to organizations and society of any remedy we decide to sanction. We could just fine that the cure, while emotionally satisfying in the short run, carries costs that we struggle to pay in the long run.
What do you think? Is it time to hack back? Let us know in the comments below and be sure to look for the next Security Now flash poll.
Related posts:
— Curtis Franklin is the editor of SecurityNow.com. Follow him on Twitter @kg4gwa.