What's keeping the global elite up at night? How about climate change, economic instability, cyber attacks and large-scale data theft, for starters?
In its "Global Risks Report 2019," the World Economic Forum ranks cybersecurity risks as part of its top ten concerns that businesses and governments around the globe are facing over the next 12 months.
Only climate change and natural disasters, including earthquakes and tsunamis, outrank cyber attacks and data theft as the biggest obstacles for businesses and governments.
The January 16 report is based on WEF's annual Global Risks Perception Survey of about 1,000 experts and decision makers, who are asked about their greatest concerns for the coming year.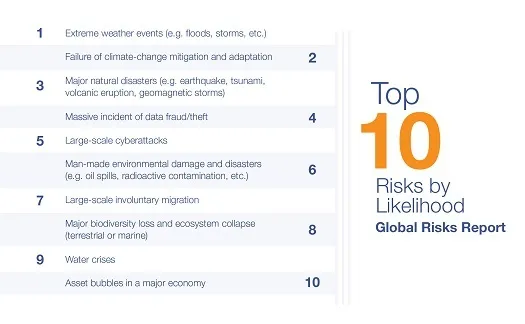 Starting in 2018, cyber attacks, data theft and other cybersecurity issues started to gain prominence in the WEF's ten-year outlook. This reflects similar findings that the organization published in November. (See Cyber Attacks Becoming Greater Risk for Businesses Worldwide.)
In a statement, John Drzik, president of Global Risk and Digital of Marsh, an insurance brokering and risk management firm that helped with the report, noted that a lack of investment in critical infrastructure around the world is a significant reason why cyber attacks, along with climate change and natural disasters, rank as some of the highest risks this year.
"Persistent underfunding of critical infrastructure worldwide is hampering economic progress, leaving businesses and communities more vulnerable both to cyberattacks and natural catastrophes, and failing to make the most of technological innovation," Drzik added.
The report finds that over the last year, a number of different incidents have many people thinking more and more about cybersecurity. This includes the attack against India's ID database, Aadhaar, which exposed the records of 1.1 billion citizens; the continuing problems at social media companies such as Facebook; and issues such as the Spectre and Meltdown side-channel vulnerabilities that affect x86 microprocessors.
The report also found growing concern with technologies, such as artificial intelligence and machine learning. About a third of respondents -- 32% -- believe that AI will cause harm to human society.
Even with all the cyber risk that companies and government's face, climate change and natural disasters still loom over everyday decision making.
"2018 was sadly a year of historic wildfires, continued heavy flooding and increasing greenhouse gas emissions," Alison Martin, the group chief risk officer with Zurich Insurance Group, which also helped with the report, noted in statement. "It is no surprise that in 2019, environmental risks once again dominate the list of major concerns. So, too, does the growing likelihood of environmental policy failure or a lack of timely policy implementation."
Related posts:
— Scott Ferguson is the managing editor of Light Reading and the editor of Security Now. Follow him on Twitter @sferguson_LR.