Day One of Black Hat begins in earnest with the keynote address. Black Hat keynotes tend to be memorable, with names well known in the security community taking the stage to inspire, frighten, confound or excite the audience.
This year's address was no exception, with Alex Stamos, chief security officer of Facebook, standing in front of thousands of security professionals to tell them that they have great power, great responsibility -- and that they have to make fundamental changes in what they do.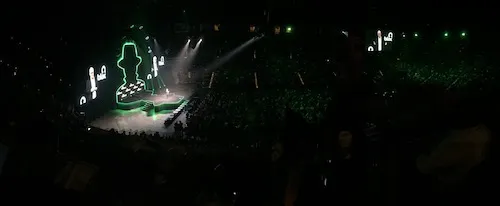 Stamos began with a look back at the keynote addresses that came before him. He acknowledged that many of them inspired action and change, and then launched into his own call for change in the data security community.
Stamos pointed out that, as an industry, security is susceptible to focusing on the glamorous and complex. Just as listeners can be dazzled by virtuosity apart from musicianship, there has been a tendency for the security world to be mesmerized by complex exploits taking advantage of the most obscure vulnerabilities with little regard for their actual impact on users. Stamos's first recommendation was that this change -- that security begin looking at their world with an eye to minimizing the harm done to computer users.
Minimizing harm, according to Stamos, means broadening security's focus, because the greatest amount of harm is done to users through what is thought of as abuse rather than hacking, Stamos said. That will mean looking for solutions to problems that are now seen as being outside security's purview, using tools that are now unfamiliar to security professionals.
---
Get real-world answers to virtualization challenges from industry leaders. Join us for the NFV & Carrier SDN event in Denver. Register now for this exclusive opportunity to learn from and network with industry experts – communications service providers get in free!
---
This broader focus may well require increasing the level of empathy security professionals have for users, Stamos said, because the current situation requires billions of people to walk a rather sophisticated technological tightrope with no margin for error. It is, he said, a situation that can't last.
Properly addressing the changes will require, Stamos said, greater diversity in the security community -- greater diversity of people, of backgrounds and of thinking. It will not be enough to hire diverse people, though: Managers and organizations must create an atmosphere in which every person feels that they can contribute and be valued as part of the security team. He pointed out, using examples from his experience, that merely wanting to do "the right thing" isn't enough; discussions have to come from a place of mutual respect and a mutual desire to work for the good of the entire user community.
As much as those in the security community like to see exploits and vulnerabilities as intellectual exercises and puzzles to be solved, there are very real consequences to security problems, Stamos said. He pointed to the US elections that will happen next year -- more than 400 separate campaigns built as organizations with finite lifespans and primarily run by volunteers. It will be up to the security community, he pointed out, to make sure that those 400-plus organizations are secure and the election results safe and valid.
What could possibly go wrong? A great deal, as we now know, but Stamos said that he's an optimist. After all, he said, information security has accomplished a great deal and Black Hat, as an event, is not yet old enough to order a drink in a Las Vegas bar.
— Curtis Franklin is the editor of SecurityNow.com. Follow him on Twitter @kg4gwa.