NEW YORK CITY – AWS New York Summit – Amazon Web Services' CTO Werner Vogels wants to change the conversation between customers, application development and cloud users when it comes to security.
"I do believe that security is one of the most important questions to answer," Vogels said at Tuesday's conference here to announce a number of new features, as well as enhancements and upgrades for the company's public infrastructure-as-a-service (IaaS) platform. (See Unknown Document 744744.)
"I'm a strong believer that in these days, security is no longer the job of the security team, or just the security team," Vogels added. "I think security is everyone's job today. If we really want to protect our customers and our business, we all have to take responsibility for security. It is no longer the case that when you come to the end of your development process, the security comes in, sprinkles some magic dust over your application and then it is secure. In a world of continuous integration and continues deployment... you have to have a very different background."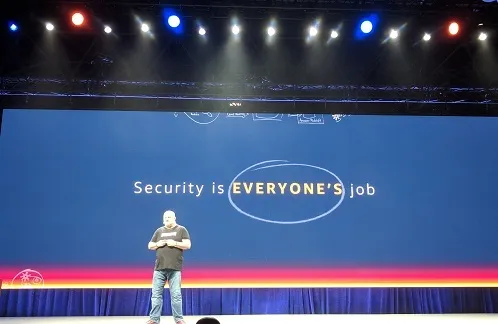 As the cloud has grown in popularity, with AWS remaining the most popular of the big public cloud services, security concerns have grown, especially as customers transfer more data to these public services. (See Public Cloud, Part of the Network or Not, Remains a Security Concern.)
In most cases, security is divided between the public cloud provider, which protects the infrastructure that the data and applications are hosted on, and the customer, who assumes responsibility for the data. (See TeenSafe Data Leak Shows Cloud Security Weaknesses.)
However, that division of labor when it comes to security has proved problematic, especially as the number of cyberattacks has steadily increased over the last several years, with more cybercriminals targeting the cloud. (See Attackers Increasingly Turning Attention to the Cloud.)
Additionally, some users seem to be unaware of all the security concerns that come with public cloud, leaving records exposed to the wider Internet. Security researchers have had a field day in the past several months finding these records on unprotected and unencrypted databases and files -- many hosted on the AWS platform. (See MyHeritage Data Breach of 92M Accounts Raises Many Questions.)
While the integrity of data is likely to remain the ultimate responsibility of the cloud customer, Vogels and AWS are proposing a multiprong security approach that requires cloud providers to offer more resources, especially through the automation of different processes, as well as tools such as encryption that protect data that is at rest, as well as data in motion moving to and from the cloud.
"We think there is a great change happening because of continuous integration and continuous deployment that we really need to make sure that our pace of innovation meets the pace of protection. And you do that through automation," Vogels said.
Right now, AWS offers some of those features through its various cloud services and tools. For instance, in late 2017, AWS rolled out GuardDuty, a feature that is part of the AWS Management Console. It allows customers to analyze API calls and network activity across their accounts, and it establishes a baseline to compare normal activity to anomalies in network traffic. (See AWS Adds Security Management to Growing Portfolio.)
---
Boost your understanding of new cybersecurity approaches at Light Reading's Automating Seamless Security event on October 17 in Chicago! Service providers and enterprise receive FREE passes. All others can save 20% off passes using the code LR20 today!
---
AWS also gives customers the ability to create their own encryption keys, or have the company create keys for them. Within Redshift, the company's data warehouse feature, each instance is protected by a key, and then customers can create a master control key to secure the individual ones.
For Vogels, the role of encryption and security certificates remains crucial.
"In all of this, encryption plays a crucial role. In my eyes, it is the only tool we have to make sure that we as customers are the only ones who can access our data," Vogels said.
Vogels also pointed to Secrets Manager, launched in April, which helps protect passwords, database credentials, API keys and other parts of the development process. Again, these types of developments fit with the notion of automating parts of the process that had been manual and cumbersome tasks until recently.
"Security now is all part of our responsibilities," Vogels said. "You can no longer as a developer say, it's the security team. No. We all need to take responsibility for security if we want to have our customers be safe."
Related posts:
— Scott Ferguson is the managing editor of Light Reading and the editor of Security Now. Follow him on Twitter @sferguson_LR.