Corporate email accounts are increasingly coming under attack with two specific kinds of schemes -- Business Email Compromise (BEC) and Email Account Compromise (EAC) -- on the rise thanks to a proliferation of cheap hacking services.
For as little as a $150 investment, cybercriminals can purchase account hacking services on various forums and use those tools to start a lucrative BEC or EAC scheme that typically targets a company's financial or accounting department.
This look at the growing threat BEC and EAC schemes pose to enterprises is part of a study released by Digital Shadows on Thursday, October 4, dubbed "Pst! Cybercriminals on the Outlook for Your Emails."
Digital Shadows researchers looked at nearly 5 billion credentials that had been exposed through more than 280,000 different data breaches. Within that pool of data, they found 33,568 email addresses of finance departments exposed through third-party compromises.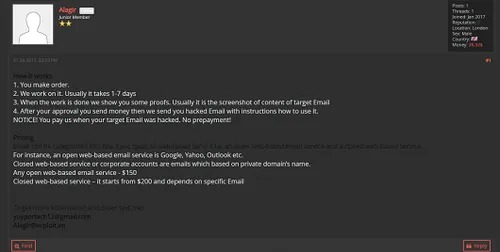 Additionally, over 80% of these emails had their passwords exposed, which could lead to various account takeovers.
Email attacks such as BEC and EAC are not new, however, recent reports show that they are increasing as attackers look for different ways to make money off stolen credentials and compromised systems.
In May, the FBI released a cybersecurity report that found BEC scams had cost businesses and consumers in the US over $675 million in losses in 2017 alone. The bureau received over 15,000 complaints about BEC attacks during those 12 months. (See FBI: Ransomware Contributed to $1.4B in Losses in 2017.)
Other similar scams, such as account takeover (ATO) attacks, are also on the increase. (See Account Takeover Attacks Are on the Rise.)
Rafael Amado, strategy and research analyst at Digital Shadows, noted that the FBI estimated that all these types of email attacks have increased by 136% between December 2016 and May of this year. It's not clear why they have increased, but the proliferation of cheap hacking tools has helped.
"It's not clear why these attacks are more prominent right now, but it would seem that the wide availability of tools and individuals offering phishing and email compromise services online lowers the barriers to entry for this activity," Amado wrote in an email to Security Now. "With more and more organizations digitizing their businesses, you have the knock-on effect of more targets being created, more employees whose credentials may be exposed, and more email archives that are being backed up on misconfigured file stores."
Another reason for the increase is that many of these schemes don't require a lot of technical know-how.
Amado notes that BEC schemes usually follow two specific routes: The first is the attacker using social engineering techniques and impersonation to email a victim and ask them to wire funds or send across sensitive data. The second involves the attacker manages to compromise the victim's email account -- often through phishing schemes -- and then alters mailbox rules before sending fraudulent messages to colleagues requesting wire transfers.
Both techniques allow cybercriminals to steal money quickly without a lot of upfront investment.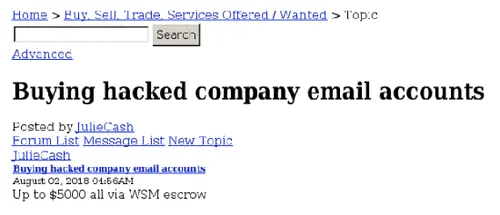 If buying tools is not possible, Digital Shadows also found some 12 million email archive files -- .eml, .msg, .pst, .ost, .mbox -- that were publicly available through misconfigured rsync, FTP, SMB, Amazon S3 buckets and NAS drives.
As part of the research, Digital Shadows did contact a Russian-speaking attacker who was looking to buy email addresses associated with the financial departments of specific companies. However, Amado noted in his email that these schemes had been observed in over 150 countries, including the US, although China and Hong Kong have seen more attacks.
To help counter these threats, Amado recommended increasing anti-spam and anti-malware tools cut down on scam emails. Also, enterprises should do more to train employees, including executives, to be aware of these threats.
"You need to build BEC into your contingency plans, just as you have built ransomware and destructive malware into your incident response/business continuity planning," Amado wrote. "For BEC, work with your wire transfer application vendors to build in multiple person authorizations to approve significant wire transfers and prevent successful BEC attempts against your organization."
Related posts:
— Scott Ferguson is the managing editor of Light Reading and the editor of Security Now. Follow him on Twitter @sferguson_LR.