The terabit attack era has arrived, according to Arbor Networks.
Earlier this week, Arbor published a blog that detailed a 1.7 terabit per second (Tbit/s) distributed denial of service (DDoS) attack aimed at a US-based service provider. This follows a 1.3Tbit/s attack that targeted GitHub on March 1.
In both cases, it appears the group behind these DDoS attacks used Memcache as an enabler. Memcache is an open source distributed memory caching system. In most cases, the servers keep web pages available. However, the servers work with a large number of open connections.
Earlier this month, Arbor, Cloudflare and Qihoo 360's Network Security Research Laboratory (Netlab) all reported they detected DDoS attacks that used this amplification method. The attack appeared to push the amount of traffic up by a factor of 51,000. Specifically, it appears San Francisco-based Second Life was one of the first to encounter this type of DDoS attack in February. (See Memcache Servers Being Used to Launch Massive DDoS Attacks.)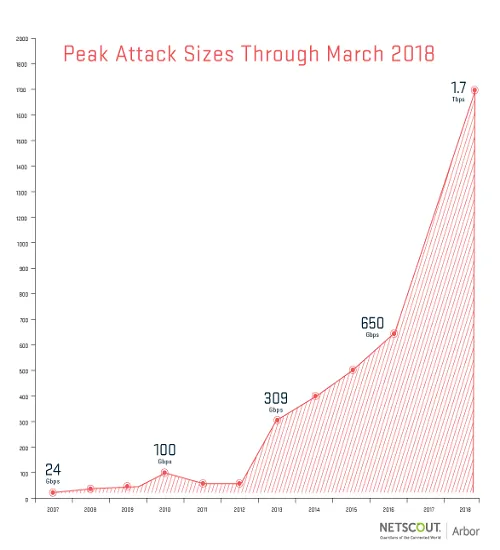 The DDoS attack works in a traditional way: An attacker sends a request to a server with a spoofed IP request, and that request is then sent to a different IP address, which is the true target. Eventually the network is overwhelmed. However, with amplification, response packets are larger than the request packets sent to vulnerable servers, which amps up traffic to the network.
Previously, the largest DDoS -- which measured 650 Gbit/s -- targeted an organization in Brazil in 2016, according to Arbor.
In this week's blog post, Arbor noted the service provider's network did not go down despite the size of the attack.
"The attack was based on the same memcached reflection/amplification attack vector that made up the Github attack," Carlos Morales, Arbor's vice president of Global Sales Engineering and Operations, wrote on March 5.
---
The fundamentals of network security are being redefined – don't get left in the dark by a DDoS attack! Join us in Austin from May 14-16 at the fifth annual Big Communications Event. There's still time to register and communications service providers get in free!
---
Part of the vulnerability enterprises face is due to widespread use of Memcached servers, although organizations are working to close some of these systems. At the same time, many of these servers are left exposed to the open Internet despite needing to be closed off and placed behind a firewall.
"The sheer number of servers running memcached openly will make this a lasting vulnerability that attackers will exploit," Morales wrote.
Related posts:
— Scott Ferguson, Editor, Enterprise Cloud News. Follow him on Twitter @sferguson_LR.