Apple CEO Tim Cook came down on the side of improved privacy laws, citing the European Union's General Data Protection Regulation framework as a good starting point. Cook, a vocal privacy advocate, delivered his remarks to the International Conference of Data Protection and Privacy Commissioners (ICDPPC) in Brussels on Wednesday, October 24.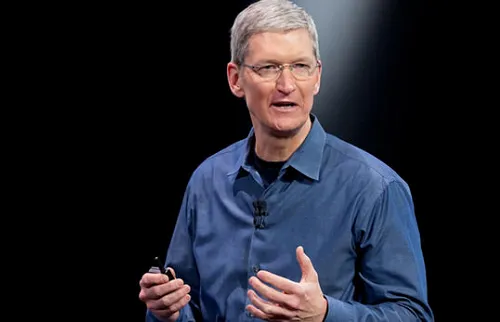 At a time when many are questioning what companies such as Google and Facebook are doing with their users' data, as well as the ability of these tech titans to protect this information from cyberattacks, Cook is pushing his company in the opposite direction, not only talking up privacy, but also welcoming new regulations.
We believe that privacy is a fundamental human right. No matter what country you live in, that right should be protected in keeping with four essential principles:

— Tim Cook (@tim_cook) October 24, 2018
Cook praised the GDPR, which went into effect in May and has forced companies to start notifying consumers faster about when a data breach occurs. It also gives EU citizens the ability to request how their data is being used, and to have that data purged. (See European Union Braces for Liability Shift for Data Breaches.)
GDPR has shown us all that good policy and political will can come together to protect the rights of everyone.

— Tim Cook (@tim_cook) October 24, 2018
The implementation of GDPR, along with the hefty fines that it imposes, has led other countries to start weighing a variety of privacy laws, especially China. In the US, several states have started to put new and more stringent data protection laws on the books, notably California. (See California Looks to Pass Rudimentary IoT Security Legislation.)
At the recent Gartner Symposium and ITExpo in Orlando, analysts noted that privacy, as well as regulations and compliance laws such as GDPR, would be one of the major obstacles that enterprises will face in coming years. (See Privacy & AI Changing the Digital Transformation Game.)
In his remarks, Cook noted that companies should do more to either de-identify customer data or not collect that consumer data at all. Also, enterprises should clearly state why they are collecting consumer data and what they plan to do with that information, making it easier for consumers to decide whether they want to participate or not in that data collection.
Businesses of all sizes also need to do a better job of securing the data they collect, especially as more and more records enter the public sphere through data leaks and cyberattacks. (See Gemalto: 4.5B Records Breached in First Half of 2018.)
And fourth, everyone has a right to the security of their data. Security is at the heart of all data privacy and privacy rights.

— Tim Cook (@tim_cook) October 24, 2018
In praising regulations such as GDPR, Cook also threw his weight behind a federal law in the US to protect privacy that would supersede the patchwork of local and state rules that can create confusion for consumers, as well as the companies that need to adhere to them.
Related posts:
— Scott Ferguson is the managing editor of Light Reading and the editor of Security Now. Follow him on Twitter @sferguson_LR.