Despite a crushing demand for IT security workers, not all InfoSec roles are safe from layoffs or redeployment as more companies turn to artificial intelligence and machine learning, according to IT security and careers experts.
IT security pros may assume their jobs are safe, especially when figures such as a 1.8 million IT security worker shortage is projected by 2022, according to ISC(2). But, like a sailor at sea, IT security professionals may find themselves lamenting a similar woe of "water, water everywhere, nor any drop to drink."
The global AI security market is projected to reach $34.8 billion by 2025 -- nearly a 31.4% jump from 2017, according to a MarketsandMarkets report, as companies seek to use the technology not only to address the IT security worker labor shortage but also deal with the mounting barrage of cybersecurity threats they face.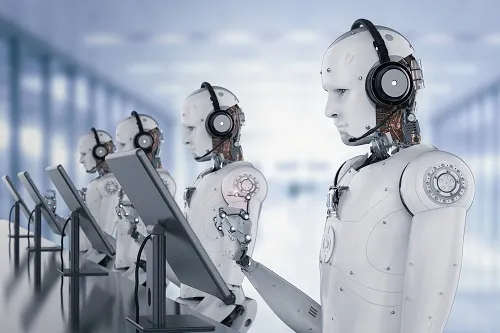 "Roles like Security Analysts, Intrusion Detection, Vulnerability Assessors are all competing with AI. I think in the next five to ten years a vast majority of these positions see AI replacing humans. There are massive investments in AI to solve cybersecurity issues, this will continue to attract more competition to the market and the rate of innovation will continue to accelerate," predicts Sam Bouso, founder of AI IT security company Precognitive, in an interview with Security Now.
IT security jobs now at risk of replacement
Tier 1 and Tier 2 security analysts and Security Operations Center (SOC) analysts who hold a similar ranking are currently the most at risk of having artificial intelligence technology replacing their position, Nitin Agale, senior vice president of products for AI company Securonix, told Security Now.
Use of machine learning and AI will automate threat detection through use of self-learning algorithms, so this will eliminate the need for manually configuring tools to detect threats, Agale explains. He added that AI-based incident response will eliminate the need for actions by Tier1 and 2 analysts to be performed manually.
Kathleen Smith, chief marketing officer of IT security recruiting company ClearedJobs.Net/CyberSecJobs.com, weighed in on the AI and IT security jobs issue:

In cyber security, we are seeing the blue teams or defensive positions will be impacted by automated processes more so than red team or offensive positions or penetration testing. Defensive tasks such as making sure patches are implemented, identifying and dealing with simple intrusions, and the like. While you can argue that both red team and blue team positions are an art as much as a science, red team is more so.
Indeed. Security architects, security auditors and compliance officers, as well as IT security management roles like chief information security officers, are positions that will likely avoid competition from AI technologies, Agale said.
"Machine learning and AI is focused on optimizing threat detection and response," Agale explains. "You still need strong architects to design your security framework, decide which tools to use, etc. Auditors and compliance teams serve a different purpose and hence won't be impacted. Same with management positions – you need decision makers."
IT security layoffs & redeployments post AI
In some cases, Bouso is aware of companies issuing layoffs after putting their AI and machine learning in place, but he noted more often IT security professionals tasked with previously performing certain IT security functions will oversee and run quality assurance on the AI and machine learning technology that has replaced them.
"It often takes more than a year to 18 months to hire qualified cyber security talent, so smart companies are working to retrain internally and redeploy," Smith said. "This takes some rethinking on the part of companies to instill in their management to pick the best talent on their teams and work with them to enhance their skills to manage the machine learning and AI, or to move into risk management. "
Jeff Weber, executive director for Robert Half Technology, told Security Now that the ability to retrain and redeploy IT security professionals is a key talent goal for most IT organizations that are fighting for talent.
"If the process or activity impacted by AI and related topics is in the area of security and privacy, most organizations would strive to retain that critical skillset," Weber adds.
Certain IT security skills are likely to remain in demand for the near future, despite advancements in AI and machine learning, say careers and security experts.
Soft skills that include effectively working with others, communication skills, curiosity about learning new areas, and listening skills will remain in demand, Smith said.
Bouso provided a more sobering outlook, however.
"We still need humans to supervise the machines. That need will decrease as these (AI and machine learning) technologies mature. But this will open more opportunities for IT security in other areas where AI and machine learning is still not sufficient as a standalone," he said.
However, Bouso, further notes: "The challenge will be for those lesser skilled workers as they may not have the capabilities to step up to more mentality challenging roles that AI cannot yet successfully perform. The problem here though, is that those more difficult tasks will again become automated and level of human intellect required to carry out the next level up in tasks which AI can't perform yet will again go up."
Related posts:
— Dawn Kawamoto is an award-winning technology and business journalist, whose work has appeared in CNET's News.com, Dark Reading, TheStreet.com, AOL's DailyFinance, and The Motley Fool.