In the world of security, the ultimate defense is the air gap -- a total physical separation of the network or device from the rest of the world. But air gaps have been shown to be vulnerable in the past, and researchers in Israel have now demonstrated a new way to cross the gap and reach systems previously thought to be safe.
Researchers used a communication medium that turns security against itself and a communication technique that borrows from a great symbol of modern-age laziness -- the television remote control. The vulnerability, dubbed aIR-Jumper by the research team, uses infrared LEDs and sensors in security camera as a door into the network, and from there into applications and databases.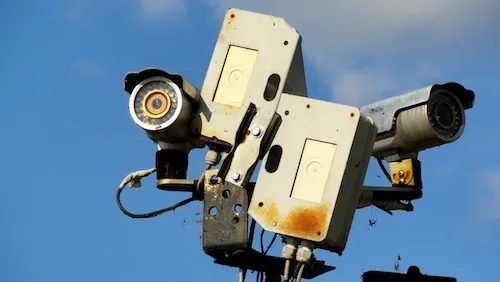 Mordechai Guri, Dima Bykhovsky and Yuval Elovici found that the infrared (IR) capabilities that are part of every surveillance camera in wide use today can be re-purposed via software to carry data. It's not a high-bandwidth channel: For exfiltration (getting data out of an organization) data flows at a rate of 20 bit/sec per surveillance camera to a receiver tens of meters away. In the case of infiltration (getting malware and commands into the systems of an organization) the channel is wider, with data flowing at more than 100 bit/sec to the surveillance camera from hundreds of meters to kilometers away.
The trio's research paper goes into detail why the treat is so dangerous: Simply stated, it's invisible. When an engineer looks at a surveillance camera, there's no way to see whether it's being used to receive or transmit illicit information. In order to be protected, the network and applications will need to have the sort of defense in place that is common in large, connected enterprise systems but still rare in air-gapped security and industrial control networks.
"What we recommend is for industrial security to adopt the same practices as IT security and assume that the air gap is not 100% failure-safe," Edgard Capdevielle, CEO of Nozomi Networks, said in an interview with Security Now. "Assume that the perimeter will be penetrated and [that] you need to have an anomaly detection/intrusion detection infrastructure to address this type of penetration."
"You cannot assume that any one failsafe measure is perfect," Capdevielle said. "You have to have a multi-factor security infrastructure that improves perimeter security, and air gap is not a proper one."
---
Want to learn more about the tech and business cases for deploying virtualized solutions in the cable network? Join us in Denver on October 18 for Light Reading's Virtualizing the Cable Architecture event – a free breakfast panel at SCTE/ISBE's Cable-Tec Expo featuring speakers from Comcast and Charter.
---
This is not the sort of vulnerability that's likely to be at the center of a "millions of credit card records lost" event. It is, though, precisely the sort of vulnerability that could lead to industrial sabotage or espionage. And it could easily lead to administrative credential theft, which might then lead to wider records loss.
It's important to note that aIR-Jumper is a proof-of-concept attack that has not yet been seen in the wild. That doesn't mean that organizations don't need to be concerned. It does mean that organizations may have time to address the issues before the first major breach featuring aIR-Jumper puts its victims on the nightly news.
Related posts:
— Curtis Franklin is the editor of SecurityNow.com. Follow him on Twitter @kg4gwa.