Distil Networks is a security company that has made bot defense one of its main areas of concern. While the firm seems to be reputable -- StubHub, Lufthansa and Verizon are listed among its clients -- the company's views on bots must be viewed within the context of the business.
However, Distil seems to be onto something.
Its latest threat research report -- "Mobile Bots: The Next Evolution of Bad Bots" -- finds that bot operators are now implementing a new technique, leveraging mobile devices to avoid detection and execute a number of criminal acts.
In the report, researchers examined requests from 100 million mobile devices on its network from six major cellular carriers during a 45-day period.
They found that the most sophisticated "bad bots" have adopted a new morphology.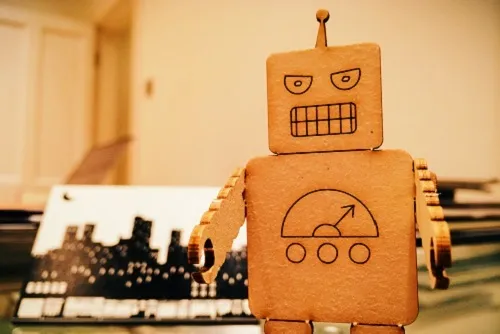 Distil found that the bots were launched from both smart devices and laptops in public places. Not only that -- the new advanced persistent bots (APBs) would use cellular networks to hit their targets.
By connecting through cellular gateways, Distil finds that these mobile bots are hiding in the open and are very unlikely to be picked up by the defensive technique of IP address blocking. The researchers saw that within some cellular networks, a single IP address can cater to more than 4,000 devices per day. This seems to them a perfect place for bad bots to hide.
Distil's research showed that 5.8% of all mobile devices on cellular networks were used in bad bot attacks. They were also responsible for 8% of bad bot traffic. Almost half -- 44% -- of all cellular IP gateways were used in such attacks.
Some of the attacks included web scraping, brute force attacks, competitive data mining, online fraud, account hijacking, data theft, spam and digital ad fraud, according to Distil.
The report also found:

On average, each day there were 15 devices making bad bot requests on every cellular gateway IP address. The maximum number of devices making bad bot requests on one IP during a single day was 862. The average number of bad bot requests per device was 50 per day.
This gives context to how involved this situation can actually be.
To Distil, mitigation includes protecting exposed APIs and mobile apps -- not just the website -- and share blocking information between systems wherever possible. The researchers noted that that protecting your website does little good if backdoor paths remain open.
---
Boost your understanding of new cybersecurity approaches at Light Reading's Automating Seamless Security event on October 17 in Chicago! Service providers and enterprise receive FREE passes. All others can save 20% off passes using the code LR20 today!
---
They also recommend blocking certain data centers, including Digital Ocean, OVH SAS, Choopa, LLC, OVH Hosting, GigeNET, and even Amazon, arguing that these are easily accessible hosting and proxy services that could be the kickoff point for a bot maintained by a less sophisticated operator.
"Mobile is the new frontier for bot operators, as they can perform highly advanced attacks while remaining hidden in plain sight," Rami Essaid, chief product and strategy officer at Distil Networks, noted in a statement. "We have seen bot operators develop and enhance their techniques throughout the years, but the threat to mobile devices is real and growing."
Related posts:
— Larry Loeb has written for many of the last century's major "dead tree" computer magazines, having been, among other things, a consulting editor for BYTE magazine and senior editor for the launch of WebWeek.