I recently wrote in my
personal blog
about how some security blogs manage to engage their audience better than others and make their readers feel more in touch with what's happening -- on top of earning credibility.The "Last Psychiatrist" posted a very good
blog
where he discusses how the news media creates fake credibility by, for example, having someone report from the floor of the New York Stock Exchange with a lot of background noise. I have some other theories to present that may complement his, and some examples to illustrate them.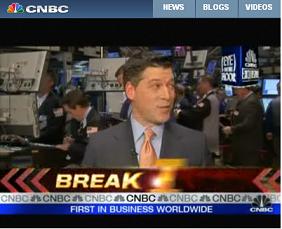 As he mentions, background microphone noise is easy to solve, and the information shared with us they already have in the studio. Then why do it? The setting of reporting "on the ground" gives us viewers a feeling that the report is more credible, when in fact it is quite possible the reporter is reading Yahoo! for the latest stock information, just as easy as we can.
My own experience shows me other aspects of this same phenomenon. The "on the ground" factor is not necessarily about credibility. It may just as well be about interest in the form of audience engagement.
In our daily jobs we don't often do anything very exciting, and if we read about something happening RIGHT NOW and the battle story behind it, then we are a part of it and gain a feeling of importance.
In the Internet security and network operations fields, people get very excited when stories from the front lines are shared with them. They get the feeling they are on the front lines themselves -- a borrowed feeling of importance -- and are getting the information before anyone else, thereby increasing the information's value and their own.
Techies often value real raw data, whereas in most places, public data is prechewed, seen before, and inaccurate (news vs. opinion). By providing raw data from the front lines, we feel we have the truth of the matter and then believe in the whole -- after checking into just a small part of it ourselves.
One example of this is the SANS Internet Storm Center (ISC) Diary, where very good people (and good friends) share their experiences from the field and treat their readers as a part of the larger community that sends in data. Even when their posts have no relation to anything happening right now, it feels like they do.
And whenever I share a war story of my own so that people are informed of new threats, the types of responses I get are pathos- rather than logos-based. This proved very successful when I built SecuriTeam blogs during 2006-7 and brought it up from 80 unique readers a month to 15,000 unique readers a month.
Share real experiences (and, obviously, as much real data as possible), and your users will be more engaged with your writing and visit your blog more often.
As half a joke, there is a also a political communication reason for the background noise. In one of the best TV shows ever written, "Yes Minister," the (now Prime Minister) has his first TV interview. When he finds out he has nothing new to say, he is instructed to wear a loud suit (the background is a screaming yellow) just to distract people that he actually has nothing new to share.
Follow Gadi Evron on Twitter: http://twitter.com/gadievron
Gadi Evron is an independent security strategist based in Israel. Special to Dark Reading.