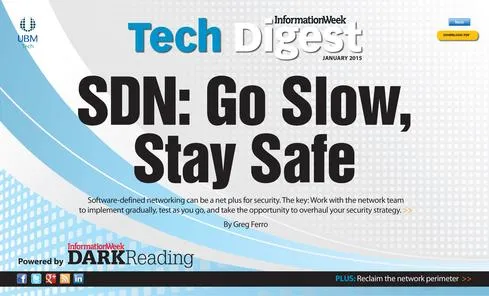 Download the new Dark Reading Tech Digest,
distributed in an all-digital format (registration required).
The transition from conventional to software-defined networking is a significant one, so IT must rethink how the network will operate once the control plane is separated from the data plane and centralized in a controller. Security pros must demand a voice in the SDN adoption process.
Few companies are making the move to SDN in one fell swoop. However, most will make the move in order to improve service delivery, gain deeper visibility into applications using the network, and achieve higher levels of automation. Enterprise SDN deployments today tend to be tied to private cloud infrastructures and based on OpenStack or VMware vCloud, where SDN is used as the networking component. Programmability is SDN's forte and key to a successful private cloud.
SDN marks a fundamental architectural change, and in terms of security, you don't want to be left playing catch-up and trying to translate policies after decisions have been made. The security challenge will only get tougher when SDN transforms campus and branch networks starting in 2015.
Our big-picture advice for security teams? Push to build a separate, contained SDN "island" and commence controlled, small-scale trials. The other option is to let SDN sprout organically in multiple pockets of the data center as network, server, and storage administrators separately test and assess the technology's impact on their fiefdoms. Security teams will find it much more efficient to weigh in on architectural decisions in a centralized model.
Don't be surprised if network engineers push back against the idea of a dual-network strategy. Existing routing and switching protocols are complex and unreliable in multi-network designs, so their first instinct is to reject the idea.
Counter that SDN will reduce configuration errors, improve visibility, and simplify day-to-day operation, and the island model is the most practical way to deploy SDN today. It offers lower risk and gradual migration of servers, VMs, and services while affording everyone time to develop and test updated skills, support processes, and security policies over a period of time. This will minimize risk and limit disruption to the business.
The No. 1 way SDN benefits security is its focus on segmentation and the highly granular access controls IT can create -- and then efficiently manage. That segmentation and control is the lead selling feature of VMware NSX, and it's why most public cloud providers have deployed SDN. Centralized control of policies via software increases auditability and accountability of network controls. Some benefits, such as intrahypervisor packet inspection and firewalling and encryption of packets in transit, that have seemed optional and advanced in the past, are increasingly prevalent.
Let's look at what it takes to build an SDN island, from the routing layer on up.
Chop down that tree.
It's rather amusing to watch some network architects cling to the outdated and, frankly, evil Spanning Tree Protocol. Under STP, today's typical data center network is far from robust. A change that goes unexpectedly awry can cause massive impact to the business. And workarounds like MLAG and TRILL bring their own headaches.
STP served an important purpose. Using a single-path protocol solved the problems of incompatible operating systems, protocols, and hardware that arose in the '80s and '90s. But technology has moved on, and modern design strategies center on virtualization -- decoupling servers, networks, and storage from physical devices. SDN abstracts the logical network from the physical network in much the same way that hypervisors make operating systems independent of physical hardware.
Read the rest of this story in the latest Dark Reading Tech Digest (registration required).