Summertime Security Blues: Why Threats Heat Up on Vacation
During the summer months, the number of remote workers in enterprises increases, as do the security threats. Here are some common sense practices to help cut down on breaches, phishing attacks and other issues.
Most modern organizations take advantage of a decentralized workforce, and for good reason: When employees have the flexibility to work outside of the main office, they're more readily available to address issues in real time, making them "always on" without feelings of unnecessary strain.
But operating in a world where private networks are essentially borderless comes with an array of potential pitfalls.
This is compounded during the summer months, when employees might be more lax in adhering to best practices for remote work as they juggle their job priorities with personal time -- something hackers and other bad actors are quick to take advantage of this time of year.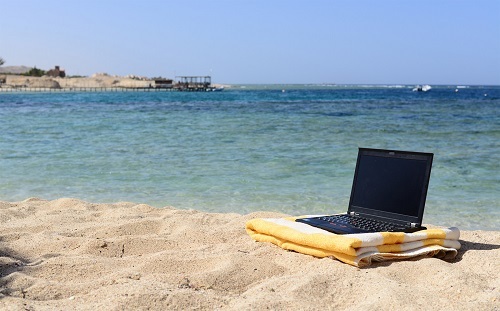 How can teams work safely during the summer months, even as the cyber threat landscape continues to escalate?
Be mindful of unsecured WiFi
While logging on at a coffee shop, airport or train may be convenient, it is never wise to login to an unsecured WiFi network. This is especially true when employees are accessing business-critical data that could easily be exposed to others using the WiFi.
If a bad actor can leverage a non-secure connection to access sensitive data or infiltrate a private network, it could cause a domino effect of exposure that can quickly spread across the organization.
Employers might suggest that mobile workers use cellular connections and tether to access the Internet -- where the connectivity enjoyed by one device's data plan, such as a smartphone, is leveraged by a laptop or other device in lieu of WiFi -- when possible. Since most data plans are unlimited, tethering offers a secure connection, so long as employees are accessing the correct source device rather than a "spoof." This can be assured by having users update their phone's "nickname" to something unique that won't be readily confused.
Seal off all connection ports
From the top-down, businesses should reassess the physical hardware they use if it's going to support remote or mobile work, especially at sites where a technical team isn't available to monitor and manage security.
For many of the same reasons businesses moved applications to the cloud, moving security to the cloud is safer and more efficient. It also removes the need for physical hardware from the equation and thus eliminating an unauthorized person from physically plugging into these devices and compromising the network.
For example, if you're a retailer, financial or insurance with many small remote offices, having hardware sitting in those offices can be an exposure. Eliminating these appliances and moving that security to the cloud would be the safest approach verses patching hardware.
Keep software up-to-date
With a mobile workforce, it is especially important to enforce employees install new software as it is one of the easiest ways to protect against outside cyber attacks. The modern threat landscape is always advancing, and software providers need to be in lock step with each evasive threat if they are going to provide this protection. Without regular updates at the recommendation of the software provider, vulnerabilities to the end user will only proliferate.
Don't fall victim to phishing
Be on the lookout for targeted phishing campaigns that prey on certain, opportunistic topics you or your team might be searching for online. During the summer, these kinds of targeted campaigns might include a travel package to a summer gateway location, for instance, or an application to watch this year's World Series in person. (See Phishing Attacks Are Increasing & Gaining in Sophistication.)
---
Zero in on the most attractive 5G NR deployment strategies, and take a look ahead to later technology developments and service innovations. Join us for the Deployment Strategies for 5G NR breakfast workshop in LA at MWCA on September 12. Register now to learn from and network with industry experts – communications service providers get in free!
---
While companies may have best practices in place to prevent employees from using their work computers or devices for personal use, it's difficult to enforce the strictest policies when users are connected to their work network via personal devices or as part of BYOD initiatives. Targeted phishing makes this all the more difficult, as even savvy Internet users can fall victim to more sophisticated scams. Once a virus infiltrates a smartphone that regularly links up with company data on a private network, it can very quickly spread to devices and data stores across the organization if advanced threat protections aren't in place.
Businesses need to take a layered approach to cybersecurity that grants them full visibility into the activity of remote users, especially during the summer months when traveling workers are often top targets. Putting as many defenses between business-critical data and the litany of threats across the Internet is essential, regardless of the season.
Related posts:
— Paul Martini is the CEO and co-found of iboss, which develops security tools for cloud platforms. Follow the company on Twitter @ibossCyber.