iPhone Users Targeted in Mobile Malware Attack
Cisco Talos has found a complex mobile malware attack that tricks users into downloading compromised MDM software onto their iPhones.
A mobile malware attack is targeting iPhone users in India by tricking them into downloading open source, mobile device management (MDM) software that can take control of the smartphone and reveal personal data, as well as location, according to a new report.
So far, the attack has only infected about 13 different iPhones in India but the sophisticated nature of the campaign -- using software that looks like an MDM application -- is putting security researchers on alert.
In their report, researchers with Cisco Talos write that they are not completely sure how the attackers gained control of the iPhones, but it seems that they used social engineering techniques to trick users into either downloading the malicious software or giving access to the physical device.
Once downloaded, the malware can then replace legitimate mobile apps in order to steal data such as SMS messages, or report back on the physical location of a particular iPhone.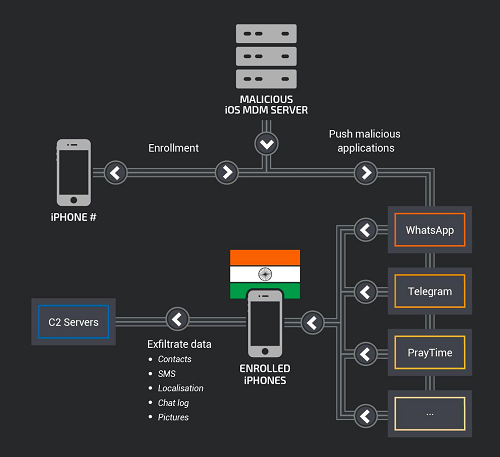 Specifically, the attacks use a BOptions sideloading technique to add features to legitimate apps, including WhatsApp and Telegram. From there, the person or persons behind the malware can gain almost unlimited access to the device and the data:
The purpose of the BOptions sideloading technique is to inject a dynamic library in the application. The malicious code inserted into these apps is capable of collecting and exfiltrating information from the device, such as the phone number, serial number, location, contacts, user's photos, SMS and Telegram and WhatsApp chat messages.
Talos researchers were able to find the MDM logs on a server, and it appears the group behind the malware has been operating since at least 2015.
These servers also contained some clues about the attackers themselves. Researchers found that the group may have tested the attack on their own phones first, and the names "test" and "mdmdev" were found on the server, along with telephone numbers registered to "Vodafone India."
It appears from this that the attackers are based in India, although they also left false clues to hide their identity.
---
Boost your understanding of new cybersecurity approaches at Light Reading's Automating Seamless Security event on October 17 in Chicago! Service providers and enterprise receive FREE passes. All others can save 20% off passes using the code LR20 today!
---
What makes the attack particularly troubling is that MDM software allows a third-party complete control of a smartphone or another device. With more enterprises using MDM apps, the fact that the group was able to reproduce an authentication process and certificates, means that end users and security pros need to be aware of unusual requests for access to devices.
"By installing a certificate outside of the Apple iOS trusted certificate chain, you may open up to possible third-party attacks like this," Talos researchers wrote in the July 12 post. "Users must be aware that accepting an MDM certificate is equivalent to allowing someone … access to their device, passwords, etc."
The Talos researchers have been in contact with Apple to remove some of the malicious applications associated with the attack.
Related posts:
— Scott Ferguson is the managing editor of Light Reading and the editor of Security Now. Follow him on Twitter @sferguson_LR.