Satellite hacking is set to blast off to new frontiers when Moonlighter, billed as the "world's first and only hacking sandbox in space," is launched into low-Earth orbit (LEO) this August.
Moonlighter will be part of Hack-A-Sat 4, an annual space security challenge timed with DEF CON that's hosted jointly by the US Air Force and Space Force. This is the first year that finalists can target a real satellite in orbit rather than a simulation.
Developed by the Aerospace Corp. in partnership with Space Systems Command (SSC) and the Air Force Research Laboratory (AFRL), Moonlighter is meant to bolster operational security of space objects (as opposed to the data they transmit). It has a dedicated cyber payload with a firewall to isolate the onboard subsystem, along with a "fully reprogrammable payload computer that behaves like a flight computer, according to an announcement (PDF) from Aerospace Corp.
"Cybersecurity testing for space usually occurs in a laboratory or during a simulation activity on the ground," according to the release. "Applying cyber defense theories and approaches in the space domain has been restricted by the limited availability of suitable existing vehicles in that environment."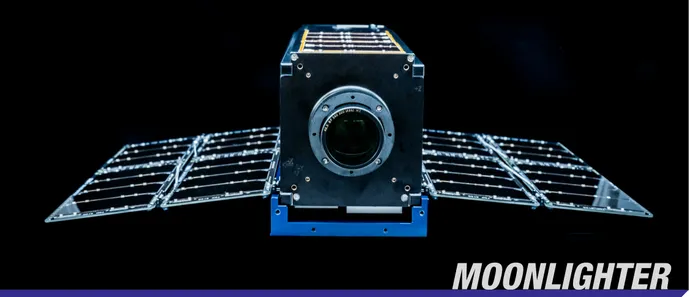 A working satellite designed to help improve cybersecurity for space systems by providing a real-time, real-world target for pen testers is an important step forward, given that satellite hacks are hardly theoretical. Early in 2022, the FBI and CISA warned that attacks against satellite ground-based and space-based infrastructure could become a reality. Soon after, in the wake of Russia's invasion of Ukraine, nation-state cyber operations targeted communications in the region via Viasat and SpaceX's Starlink satellites.
"Starlink has resisted Russian cyberwar jamming & hacking attempts so far, but [attackers are] ramping up their efforts," SpaceX CEO Elon Musk stated on Twitter at the time.